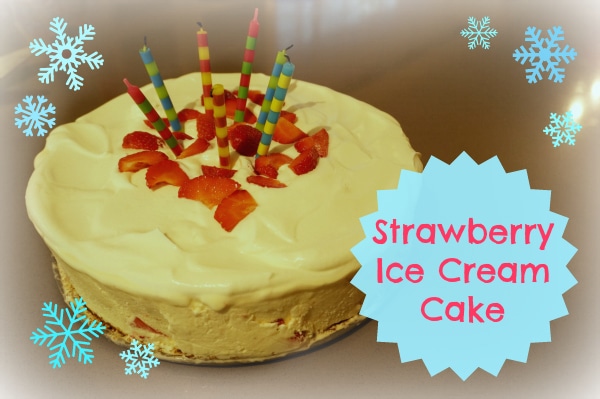 Summer is moving right along. The heat has really kicked in where we live…phew, it's hot out there. In fact, it's too hot to even dream of putting on the oven. So, what were we to do when we agreed to bring dessert to a huge family birthday party? Every year we celebrate all the June and July family birthdays in one mega-bash. This year we agreed to bring dessert. Instead of heating up our already warm house, I thought it might be fun to make a strawberry ice cream cake. Highlight delicious summer strawberries and everyone's favourite…ice cream.
Strawberry Ice Cream Cake
2 pints vanilla ice cream – good quality
2 cups chopped fresh strawberries..and a handful to top the cake
2 cups ground ginger snap cookies
1/3 cup melted butter
1/2 cup whipping cream
1. Grind the ginger snap cookies in a food processor, place in a small bowl…add the melted butter and mix until the crumbs are all moistened.
2. Press the ginger snap crumbs into the bottom of a 9 inch spring form pan…place in a 350F oven for 10-15 minutes, until crust is golden brown.
3. Once baked, cool the crust fully before pouring in the ice cream.
4. Sit the ice cream on the kitchen counter, let it soften for about 5-10 minutes, then place it in the bowl of a stand mixer and beat until smooth.
5. Add in the strawberries, mix until ice cream is light pink and the strawberries are thoroughly mixed in.
6. Pour ice cream into the completely cooled crust…I placed my spring form pan in the freezer for a few minutes before adding the ice cream…just to be sure it was completely cooled.
7. Place the cake in the freezer until you are ready to serve…at least 2 hours or overnight.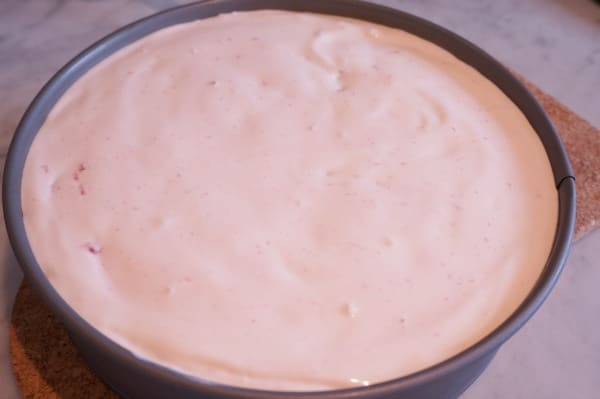 8. Once ready to serve, whip the whipped cream. Pop the cake out of the spring form pan…I ran a hot knife around the cake before opening the spring.
9. Spread the whipped cream over the top of the cake and decorate with a few fresh strawberries. Serve immediately…I mean IMMEDIATELY!
The cake and the crust were delicious. However, I learned that ice cream cake waits for no one. In other words, make sure everyone is seated and ready to eat when you serve the cake…otherwise it will MELT. Also, use a hot knife to cut the slices. And finally, ideally serve the cake in a well air conditioned room. We ate ours outside, on a hot afternoon…it got a little bit melty. No matter what this cake was delicious and makes a great alternative to a traditional birthday cake.
Looking for more summer dessert treat ideas, stop by the Life Made Delicious site and check out the selection of frozen desserts…strawberry s'more ice cream cake sounds divine.
Disclosure: I am part of the Life Made Delicious b
logger program and I receive special perks as part of my affiliation with this group. The opinions on this blog are my own.