Spring has arrived and that means we are spending a lot of time in the schoolyard after the bell has rung. I am always looking for easy to make and healthy after school snacks. The kids are so hungry at the end of the day…they need a good snack. Our old standby is fruit slices, but I was looking for something more. So, I pulled out the spring themed cookie cutters and a pack of tortillas and made a batch of springtime homemade tortilla chips.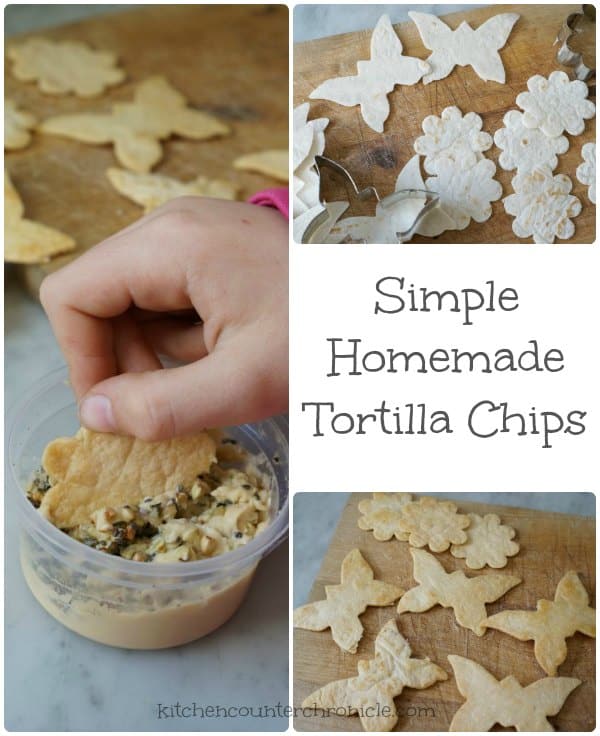 Using a spring shaped cookie cutter, cut out tortilla chips from the tortillas. Tortillas are harder to cut through then cookie dough, so you might need to use a sharp knife to cut out the fine details. We used flour tortillas, but this recipe works for corn tortillas as well. I chose a butterfly and flower cookie cutter, but you could use any shape that reminds you of spring.
Next, toss the chips in a bowl with 2 tbsp of olive oil to lightly coat both sides of each chip. 
Arrange the chips in a single layer, on a parchment paper lined baking sheet. Sprinkle with a little salt. Bake in a 350°F oven for 5 minutes – turn over and bake an additional 5 minutes. The chips should be lightly golden and crisp.
Remove from the baking sheet, let them cool and enjoy.
These light and crispy chips are super versatile. They can be eaten on their own, dipped in salsa or hummus. They make a perfect healthy after school snack. We have been enjoying our tortilla chips with President's Choice's new Buckwheat, Chia & Hemp Mini Hummus. My girls love the added crunch of the seeds with the creamy hummus.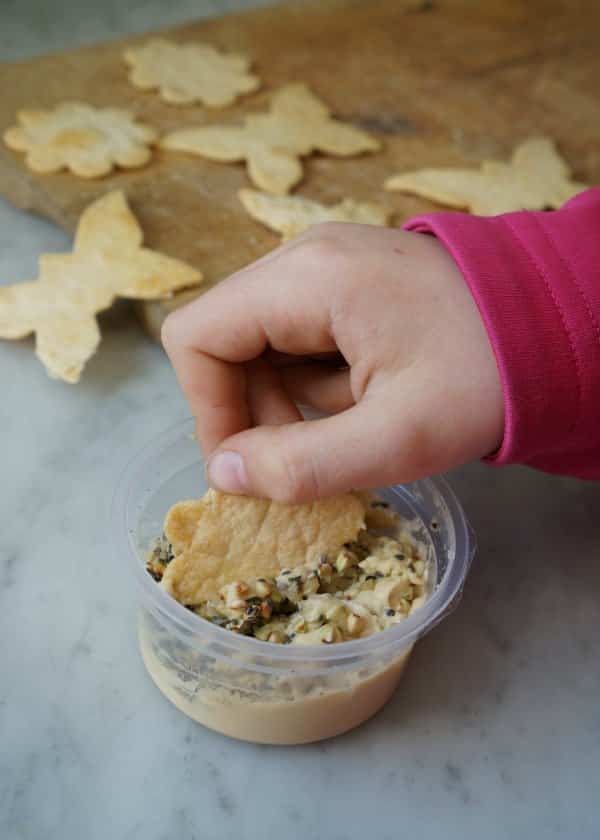 The Giveaway
I am super excited to offer this cross-Canada giveaway to you. Pick up a pack of tortilla chips and check out all of President Choice's new spring products with $75 President's Choice giftcard. The giveaway will close in one week – Wednesday, May 6th. Entrants must be a resident of Canada, however those in Quebec are unfortunately unable to enter the giveaway. Good Luck!
Be sure to subscribe to Kitchen Counter Chronicles to have our kid activities, fun crafts & family friendly recipes delivered directly to your inbox. You may also like to follow along on Facebook and Twitter.
Looking for more fun family food inspiration? Check out our Family Food & Recipe board on Pinterest.
  Follow Jen at KitchenCounterChronicle's board Family Food and Recipes on Pinterest.