I have been wanting to try this experiment with my daughters for a very long time. I remember watching white carnations magically turning blue when I was a little girl. I knew my kids would love it too. I wanted them to see this science experiment and question what was happening and learn. So, I purchased some white carnations from a local flower shop and we set about with a dyed carnations science experiment for kids.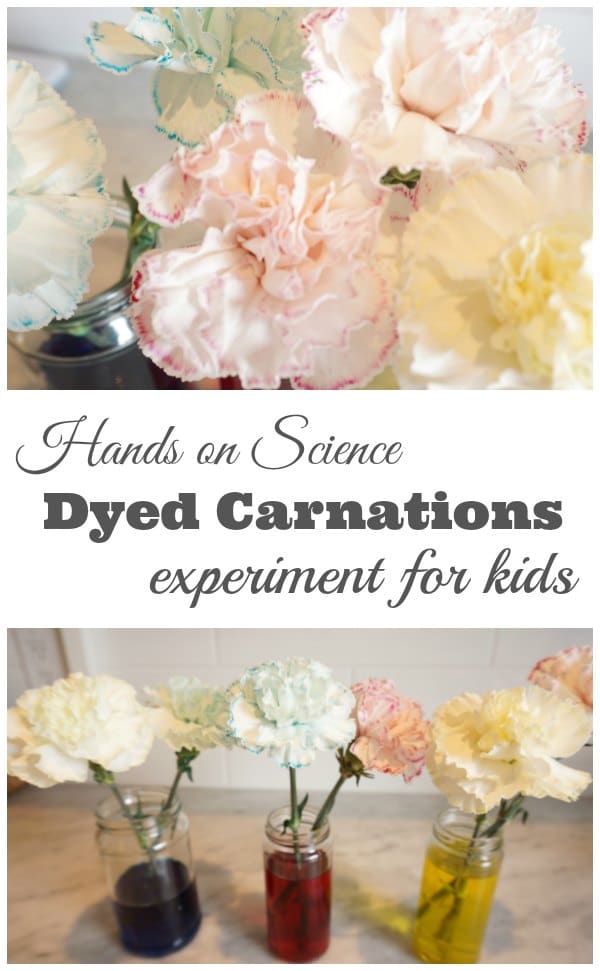 This experiment is as much about the process as it is about the end result. I started out by asking my girls to guess what the result would be. If we placed 2 white carnations in 3 vases, one with a few drops of red food colouring, one with a few drops of blue food colouring and one with a few drops of yellow food colouring…what would happen to the flowers…what was their hypothesis?
Dyeing Carnations Science Experiment for Kids
They made a few predictions; (1) they predicted the carnations would change colour, (2) they predicted it would take between 20 minutes to 1 day to change colour completely, (3) they predicted that the yellow would be slowest to change, because it is the lightest and blue would take the shortest amount of time because it is the darkest.

Once the hypotheses were written down we proceeded with the experiment. We placed 2 carnations in each vase, and we waited. Our results revealed that the flowers did change colour. It took about 1 hour to start seeing the change…it took 24hours to completely change. Yellow was the slowest colour. The results amazed the girls. It was so exciting to go back every few hours and check on our flowers progress.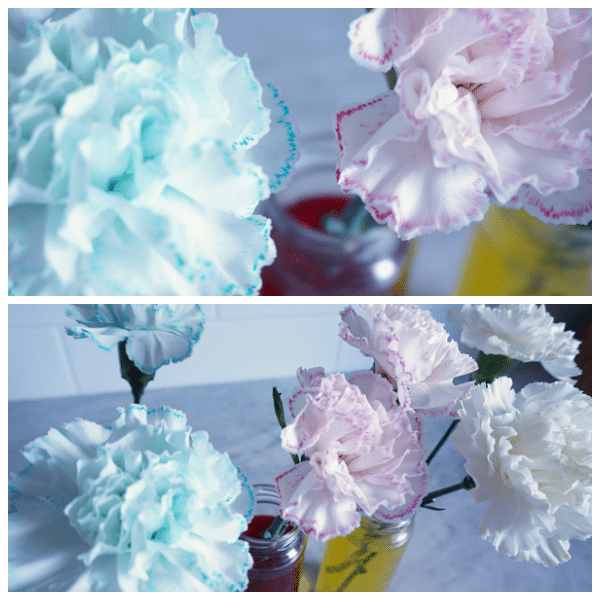 The results lead us to discuss how flowers consume the water and where the water goes after they "drink" it up. The proper scientific term is transpiration. The water molecules are "pulled" up the flower in almost a vacuum like fashion, as the water evaporates it pulls the molecules up the stem. We cut open a flower stem to take a look at the internal structure of the flower stem. We could see the tube in the centre of the flower stem…the xylem…this is the path the water takes up the stem and out into the flower petals. Amazing.
We decided to push the experiment one step further and see if we could make a rainbow of colourful flowers. So, we moved one flower from each vase into the next vase. We wanted to see if the colours in the petals would actually mix. Thus, placing a yellow flower in the red dye would turn orange, placing a red flower in blue dye would turn purple..etc. Guess what we discovered…it worked. We made an incredible rainbow bouquet of flowers. Our science experiment turned into an art lesson! Truly remarkable.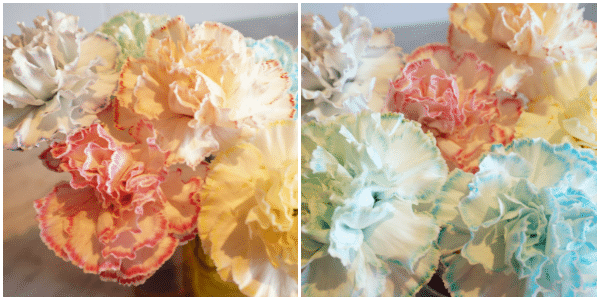 Lovely right? It was even more beautiful and amazing then I remembered. My hope is that my girls continue to question, hypothesize and test their results as they move through life. The scientific method is a powerful tool. It can apply to almost any situation…not just science. Haven't you ever wondered if eating the last chocolate brownie will give you an upset stomach? Haven't you made your prediction? Then you proceed with the experiment…eating the brownie. Haven't we all lived with the results of eating the last chocolate brownie…an upset stomach and a whole lot of regret. See the scientific method at work! Ha!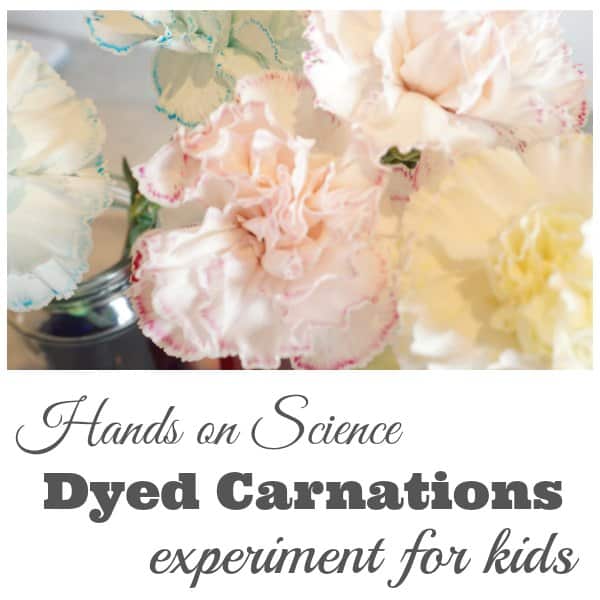 Have you ever tried colouring carnations? What science experiments from your childhood do you want to do with your kids?
---
Related Posts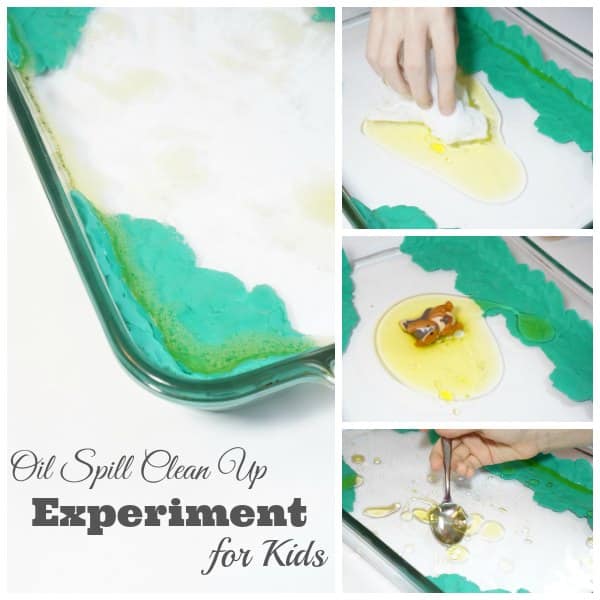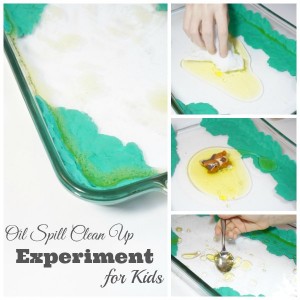 How would you clean up an oil spill? Check out our oil spill clean up experiment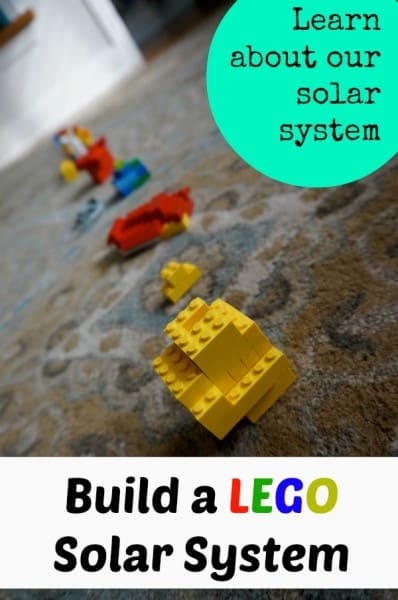 Learn about our universe and make a LEGO solar system
---
BE SURE TO SUBSCRIBE TO KITCHEN COUNTER CHRONICLES TO HAVE OUR DELICIOUS RECIPES, FUN CRAFTS & ACTIVITIES DELIVERED DIRECTLY TO YOUR INBOX.
---