It's time for the last Outdoor Play Party of 2013! Wow. The year is almost behind us. We have been busy, busy, busy getting ready for the holidays. Part of our holiday annual traditions involves heading to a small pioneer village in our hometown. We wander down a wooded trail to a small village of homes dating from the late 1800's to the early 1900's. I actually used to work as a summer student at this village while I attended University. I love taking my kids back in time. A large portion of the time is spent outdoors exploring. In pioneer times "outdoor play" was not a parenting choice – it was the only choice. Nowadays our homes are filled with so many technological distractions, it is important to remember that nature is so much more entertaining and fun.
Not only is it almost Christmas, but it is the beginning of Winter. The girls have already been outside building snow forts. We cannot wait to get back into our weekend outdoor skating habit. I took a look around the last Outdoor Play Party and found a couple of fun wintery and Christmasy post to share.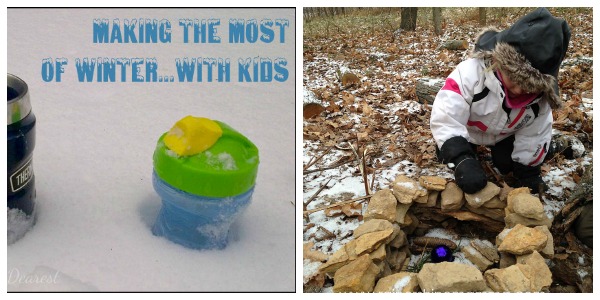 Make the most of winter with kids from My Nearest and Dearest
Build a gnome house just in time for Christmas with Rain or Shine Mama
If you were featured this week, go ahead and grab our "Featured at the Outdoor Play Party" button for your site. Feel free to grab our button and place it in your site's side bar, or add a link back to our party. We will happily share your post on Facebook, Twitter and the Outdoor Play Party Pinterest pagefollowfollowfollow. By contributing your post to this linky party you are giving permission for an image and link to your post to be republished if you are featured.
Thank you for sharing your outdoor play stories with us over this past year. I hope that you enjoy a peaceful and healthy holiday. We will see you in the new year!