We are in the midst of the coldest winter Toronto has experienced in 20 years. It has been beautiful at moments and treacherous at others. The snow brings changes to our landscape is many ways. Snow makes the city a little quieter…it's like a layer of sound insulation has been thrown on the streets. However, with snowfall comes loud snow plows and snow removal machines; beeping and scraping all through the night. Last weekend we took a hike through our lovely local ravine to see what changes we could find. How had the snow altered the landscape of our familiar ravine. I've put together a collection of images showing what our ravine looks like in the summer and what it looked like on the day of our winter hike.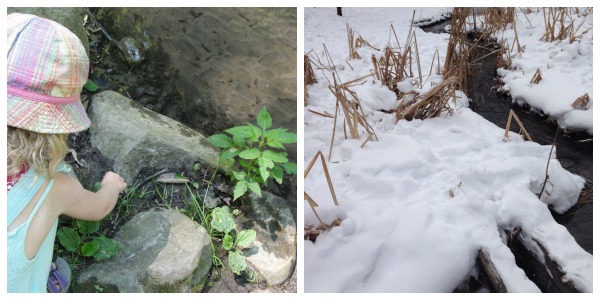 Beautiful, right? Being in the ravine in the winter was like being in a whole new ravine. We searched for animal tracks…we could see where animals had used the logs to cross the creek and other spots where they had not. We were quite certain that every little hole in the snow was the entrance to an animal's warm winter home. We were amazed to see that the little creek was still running strong, in spite of the freezing cold temperatures. I especially loved the way that they snow sat softly on the top of all the fallen branches and logs. It looked like someone had come along with white paint and carefully brushed white paint only on the top of each branch and log. Magical.
Now, it's time for the party. Since I am dreaming about warmer weather I thought I would feature a few warmer weather outdoor play posts this week. A girl can dream…
Cuddles & Muddles & Muddy Puddles had fun in a simple outdoor kitchen

If you were featured this week, go ahead and grab our "Featured at the Outdoor Play Party" button for your site. Feel free to grab our button and place it in your site's side bar, or add a link back to our party. We will happily share your post on Facebook, Twitter and the Outdoor Play Party Pinterest page. By contributing your post to this linky party you are giving permission for an image and link to your post to be republished if you are featured.