It all began with a Facebook message. The other day, I was thinking about what to make for dinner when I read a Facebook message from
Mario Batali
. He mentioned that he was going to making a big batch of osso bucco for his family. I knew right then that osso buco would be our dinner. There was only one major problem – I don't eat veal.
Instead I decided to substitute stewing beef for the veal. This is why I love social media. It was like Mario Batali was speaking to me (I know he wasn't
really
speaking directly to me). I was looking for some inspiration and I found it on Facebook. By substituting stewing beef we use a less expensive cut of meat, while the osso bucco keeps the hearty and rich flavour. Serving the stew over polenta cakes add another layer of creamy goodness to the dish. Everyone in the family will be asking for seconds.
Osso Buco Beef Stew with Polenta Cakes
2 pounds stewing beef
2 tbsp flour
1 cup chopped carrots
1 cup chopped celery
1 cup chopped white onion
1 cup white wine
2 cups beef stock
2 cups canned diced tomatoes
2 bay leaves
salt and pepper
2 tbsp chopped parsley
lemon
Start by pre-heating the oven to 375°F.
To prepare the beef, use paper towels to dry off each piece. Toss and coat each piece with the flour. Place oil in large skillet pan and brown each side of the beef.
Once all sides are browned, place the beef in a large oven safe dish and set aside. After you have removed the beef from the pan, add the carrots, onion and celery to the same large skillet pan…saute until vegetables are softened.
Add the wine to the vegetables and let it reduce for 5 minutes. Pour in the stock, diced tomatoes and bay leaves…bring to a boil. Reduce to a simmer and simmer for 10-15 minutes.
Transfer the vegetables and all of the liquid to the oven safe dish that the beef is in. Place on a lid. Cook the osso bucco stew in the preheated oven for 2 hours.
To make the polenta cakes
Open a tube of pre-cooked polenta and use a sharp knife to slice into 1/4 " disks. Place the polenta disks in a lightly oiled saute pan.
Grill on each side for 5-10 minutes.
Place a few polenta cakes on a plate and top with the osso bucco stew. Serve with as many polenta cakes as you like. Top with chopped parsley and a squirt of lemon juice. Enjoy.
What a delicious dinner. On such a rainy and cold day like, you really can't beat a steaming bowl of stew. Thank you Mario Batali.
---
Related Posts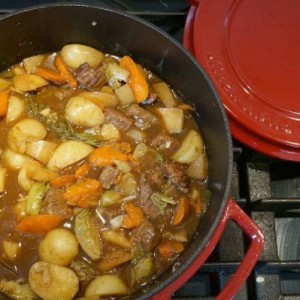 Gather the delicious flavours of fall in this pot of stew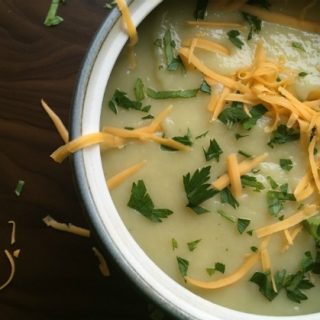 Make a batch of classic potato and leek soup
---
BE SURE TO SUBSCRIBE TO KITCHEN COUNTER CHRONICLES TO HAVE OUR DELICIOUS RECIPES, FUN CRAFTS & ACTIVITIES DELIVERED DIRECTLY TO YOUR INBOX.
---