The familiar sight of Royal Canadian Legion boxes overflowing with red poppies for sale are available on most corners of the city. The iconic plastic poppy has been around probably as long as Remembrance Day and Veterans Day. Perhaps the most challenging thing is finding a way to keep the pinned to your jacket.
My mother was a creative woman and she would replace the straight pin with a tiny Canada flag pin – with a backer that clicked and locked in place. That solution did work, however while chatting with my girls about Remembrance Day last year we decided to get a little crafty. We dropped our donation in a local poppy box and instead of taking a poppy from the box we went home and made a Remembrance Day felt poppy.
Sewing a poppy is a wonderful way to get children interested in learning more about Remembrance Day and Veterans Day. The first world war is very far removed from us – it ended 100 years ago! How can children possibly understand why we wear poppies.
So, we read the famous In Flanders Fields poem and we take the time to discuss the impact that war has had on our lives. We also take the time to discuss the wars that have followed WWI – after all, unfortunately it wasn't the last war we have faced.
Who knew a simple craft could lead to such interesting conversations.
How to Sew a Felt Poppy
red and green felt
coordinating thread
needle
scissors
paper
brooch pin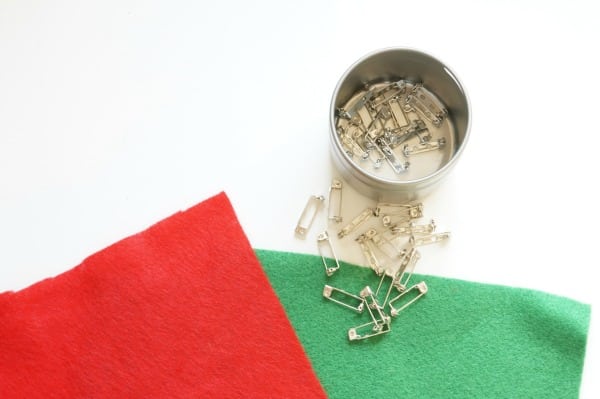 To make the petals of the poppy, sketch a four petaled flower on a piece of paper (about 2″ wide). Cut out the paper flower.
For the flower's centre, trace a thimble and cut out the paper flower centre.
Pin the paper flower to a piece of red felt. The paper flower centre is small enough that you don't even need to use a pin, simply hold the cutout in place.
Cut out the flower and the flower centre.
Next, sew the pin to the backside of the centre of the red felt. The stitches will be hidden when you sew on the green centre.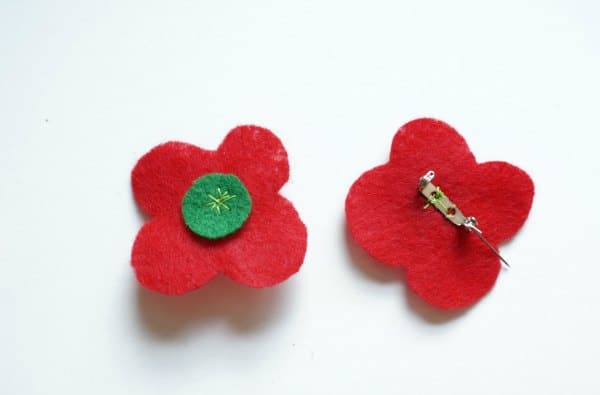 Finally, sew the green centre piece onto the red flower. Be sure to tie any knots on the backside of the poppy.
Pin the poppy to your sweater or jacket – on the left side of your chest – over your heart.
In no way do I believe that we should not donate to the Royal Canadian Legion. In fact, I think we should give more. These felt poppies are a tribute to the original plastic poppies. My daughter's and really liked the idea of making a beautiful poppy to honour our veterans. These poppies can be worn for years to come. With our poppies on our jackets and our donations made, we are ready for Remembrance Day.
---
Related Posts
Celebrate the arrival of spring with a felt rainbow brooch
Wear your holiday spirit on your sleeve with a lovely felt holly brooch
---
Be sure to subscribe to Kitchen Counter Chronicles to have our delicious recipes, fun crafts & activities delivered directly to your inbox. You may also follow along Facebook and Twitter.
Looking for more articles about life with a tween? Check out our Tween/Teenfollow and our Parenting Resources boards on Pinterest. 
---