Is there anything more lovely than arriving at a friend's house over the holidays with a home baked treat? I know I love receiving anything home baked. This holiday lemon blueberry loaf recipe is simple to prepare and makes a lovely gift for friends and family. There is something so refreshing about citrus flavours when the weather turns cold – lemon is my absolute favourite. The best thing about this recipe is that you can bake the loaves in advance, freeze them and defrost them when you are ready to gift them. 
Holiday Lemon Blueberry Loaf
1 cup unsalted butter, room temperature
2 1/2 cups granulated sugar
6 large eggs
1 tsp pure vanilla extract
3 cups all purpose flour
1/2 tsp salt
1/2 tsp baking soda
zest of 2 lemons
1 cup sour cream
1/2 pint of fresh blueberries
1. Whisk together flour, baking soda, salt and lemon zest in a small bowl.
2. Beat butter and sugar in an electric mixer, until fluffy.
3. Beat in eggs, one at a time.
4. Beat in vanilla and sour cream.
5. Gradually add flour mixture to wet ingredients…add in three batches.
6. Remove batter from mixer and fold blueberries into batter with a wooden spoon.
7. Prepare mini loaf pan – butter and lightly flour the pan. 

8. Scoop batter into mini loaf pan.
9. Bake in 350°F oven for 20-25 minutes, until tester comes out clean.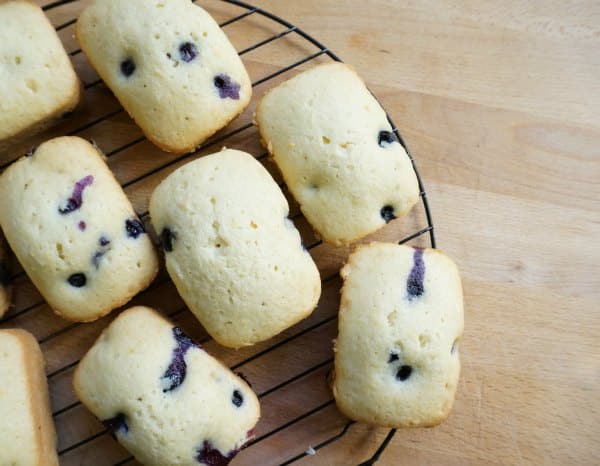 10. Once baked, remove from pan and let cool on a rack.
To transform these sweet little loaves into a holiday treat simply wrap them in parchment paper and ribbon or string. A few loaves can be placed inside a cookie tin, or seal them in a piece cellophane wrap.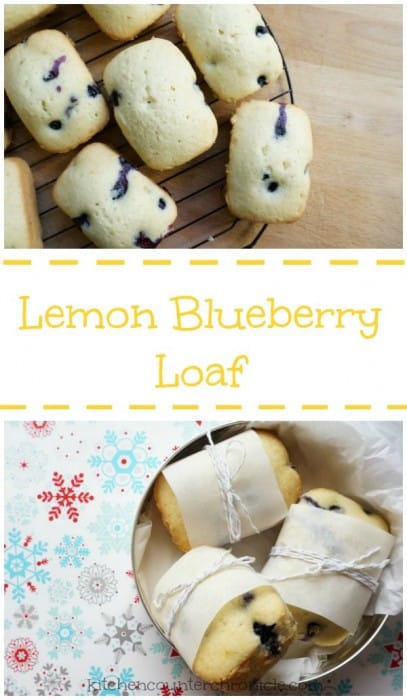 ---
Be sure to subscribe to Kitchen Counter Chronicles to have our delicious recipes, fun crafts & activities delivered directly to your inbox. You may also follow along Facebook and Twitter.
Looking for more fun holiday family food inspiration? Check out our Christmas Crafts, Food and Activities board on Pinterest.
Follow Jen at KitchenCounterChronicle's board Christmas Crafts, Food & Activities on Pinterest.
---