I have been wanting to grow a pea plant tee-pee ever since we started growing our own vegetables a few years ago. Somehow, I always forget until AFTER the garden is fully planted. Not this year. This year I totally remembered. So, we have incorporated a pea plant tee-pee in our garden this year.
First, we had to make our tee-pee. I gathered up some bamboo garden stakes. I looked around the garage and was able to pull together 3 large (5 ft) and 3 small (4ft) stakes. We decided to plant our bean tee-pee in the middle of the garden, in order to block an ugly utility box that is hanging on our house. I started off poking the thin end of the three large stakes into the ground, at the two opening points and the centre-back of the tee-pee. I tied them together at the top. Next I poked the thin end of the small stakes into the ground, between the large stakes…I tied them together at the top. If you have 6 large stakes, use them. If you only have small stakes, use them…whatever you have will work.
After getting the stakes in place I then moved on to planting the pea plants. I grew our bean plants from seed…in our handy apple sauce containers. Our bean of choice is a sugar pod snow pea. My girls like eating snow peas, so this seemed like a good choice. I had 10 seedlings to plant. In the end, this meant that I could plant 2 seedlings at a few of the stakes.
In the beginning the seedlings weren't quite tall enough to tie to the stakes…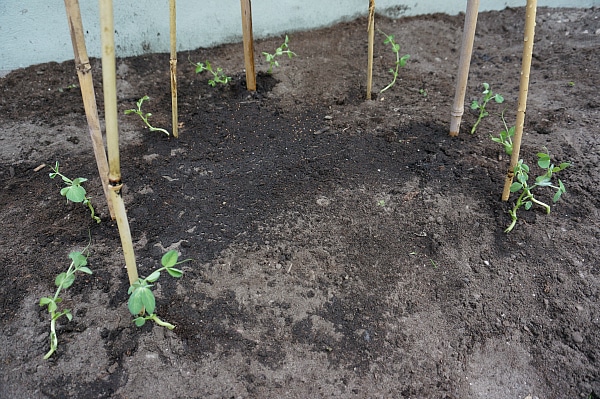 I waited a week or so and then started tying the bean plants to the stakes, in the hope that they will latch on and climb the rest of the way themselves. I added a few bricks to the inside of our tee-pee. The girls can sit or play on the bricks…inside the tee-pee.
My dream is that by mid-summer the peas plants will be climbing high on the stakes ~ covered in flowers and snow peas. You could use bean plants for the tee-pee as well. In fact, beans will possibly grow taller than peas. However, in our house peas are more popular than beans, so it was an easy choice. I hope that our little pea shelter will provide a nice little space to play and explore.
Have you ever grown a pea or bean tee-pee? Any tips? How long did it take to grow?