I'm always looking for fun and creative ways to celebrate Earth Day. Whether it's printable games, activities, recipes or craft projects there are so many fun Earth Day ideas for kids. And, you know we love a good friendship craft too! So, I decided to combine both and share how to make an Earth Day beaded friendship bracelet.
Disclosure: There are Amazon Affiliate links in this article which means, at no additional cost to you, we could receive compensation for our recommendations. You can read our full disclosure policy on our Disclosure Page for more details.
I'm a child of the 80s, I have an innate love of all things friendship bracelet. I've been making them since I was a kid and I love sharing my love with my kids now. What I really enjoy is coming up with fun messages to include in the bracelets, with letter beads. I knew I could come up with a great message for Earth Day. And, I hope you'll take inspiration from this bracelet and make your own, with your own Earth Day message, to share with your friends.
Earth Day Beaded Friendship Bracelet Crafts
letter beads
wooden beads
elastic string
jewelry glue
bead bugs
The first step in making this bracelet is cutting the elastic string. I typically cut a 10″ length. You can determine the length you will need by wrapping the string around your wrist and adding 2 inches. This gives you enough room to fit over your wrist and to have enough length for tying a knot.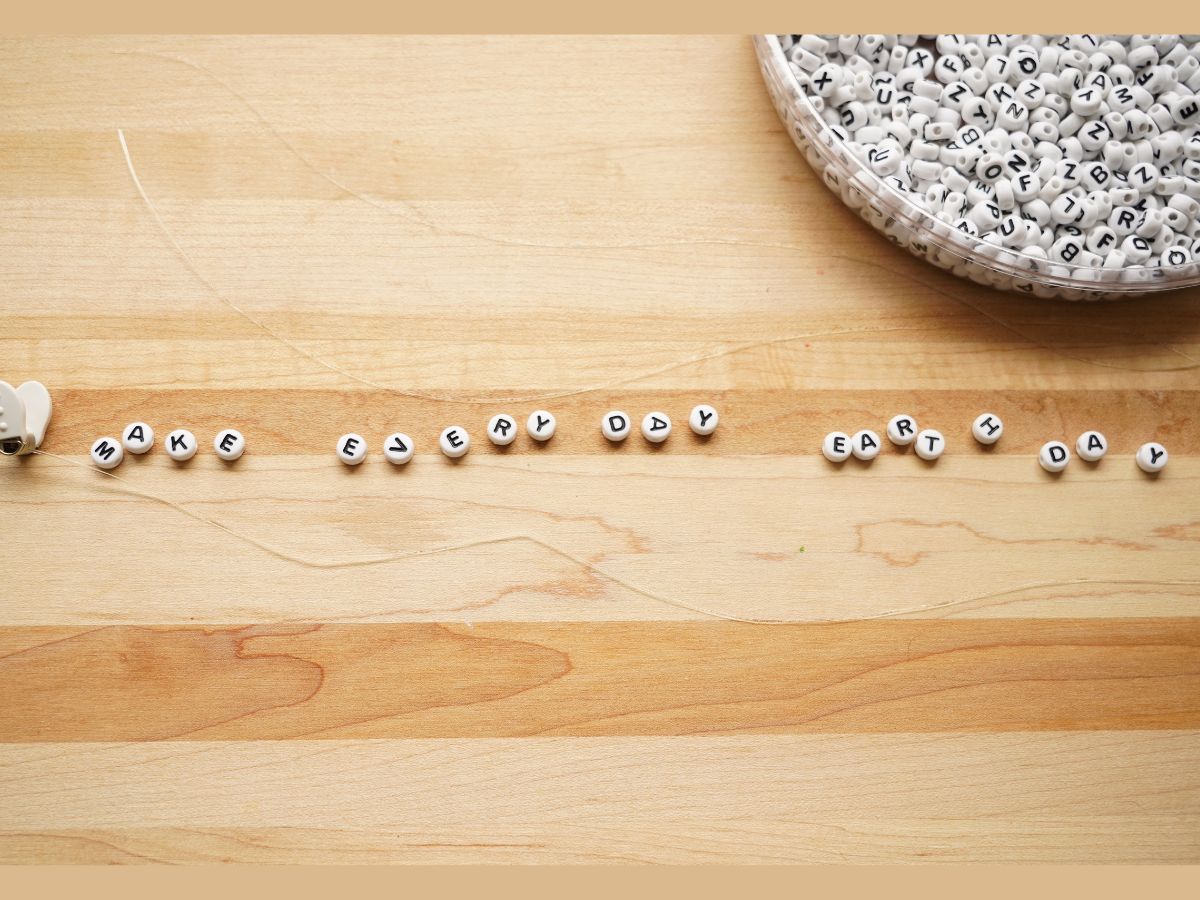 Next, it's time to decide on the message you like. I decided to go with "Make every day Earth Day". Here are a few more great options…
Give a hoot don't pollute
Tree hugger
Happy Earth Day
It's cool to be green
reduce reuse recycle
There is no planet B
Save the bees
Go green
Once you have your message and your string it's time to feed the beads onto the string. I like clipping a Bead Bug to the end of the string. This little clip stops the beads from falling off the string as you feed them on. If you don't have one of these clips you could use a bullnose clip or even a paper clip. You will want to add a small bead between each word. I chose to use green and blue wooden beads to carry on the Earth Day theme.
When the beads are in place, it's time to tie the knot. For bracelets, you want to have a secure knot. This is why I like to use a surgeon's knot. For this knot loop the ends of the string 3 times instead of the typical twice. So, three loops then pull tightly, and three more loops and tie tightly.
The string may still want to slide open, this is why I like reinforcing the knot with a little dot of jewelry glue. Drop a dot directly on the knot and then hold the knot closed, tightly, while the glue dries. This usually takes only a few moments. You can then tuck the end of the string inside a couple of beads and snip off the extra string.
I also made a string of green and blue beaded bracelets to coordinate with the letter bracelet. Feel free to make a whole stack of message bracelets. I also love adding in my flower bead bracelet too!
Of course, the best thing about friendship bracelets is sharing the love! Make and share Earth Day friendships with your classmates, family, and friends. This is a great Earth Day classroom activity. Everyone can make one for themselves and one to share with a classmate. What message will your bracelet hold?
---
Check out all of our awesome Earth Day activities and crafts for kids
---
Make sure you are following along…
FOLLOW KITCHEN COUNTER CHRONICLES ON
SUBSCRIBE TO KITCHEN COUNTER CHRONICLES TO HAVE OUR DELICIOUS RECIPES, FUN CRAFTS & ACTIVITIES DELIVERED DIRECTLY TO YOUR INBOX.