Apple crisp. Are you stuck in an apple crisp rut?
Yes, apple crisp is delicious. Yes, apple crisp is a classic dessert. But, it's time to take a leap of faith and try a new flavour profile for your next crisp?
It is the tail end of nectarine season and plum season is just beginning. We wanted to take advantage of the gorgeous plums we picked up at the market. Combine these delicious stone fruits and you have a crisp that is both sweet and tart.
Nectarine Crisp with Plums
3 medium sized nectarines. Pitted and sliced into thin wedges
6 medium sized plums. We used black plums. Pitted and sliced into thin wedges.
1 tbsp brown sugar
1 tbsp corn starch
1/2 cup unsalted butter, room temperature
2 cups rolled oats
1/4 cup brown sugar
1 tsp cinnamon
1/8 tsp salt
1. Place nectarines and plums in a 9″ x 9″ baking dish.
2. Stir in 1 tbsp brown sugar and corn starch. Set aside.
3. Stir together oats, 1/4 cup brown sugar, cinnamon and salt.
4. Use your hands to incorporate the butter into the oat mixture. You want everything to be combined with the butter.
5. Again, with your hands drop the buttery oat mixture over the nectarines and plums. Try to cover the fruit as evenly as possible.
6. Bake in 375°F oven for 20-30 minutes – until the topping is brown and the fruit is bubbling.
7. Crisp can be served on its own or with a dollop of whipped cream, or ice cream.
Now, I'm not saying that this nectarine and plum crisp is better than apple crisp. I'm simply saying that there is nothing wrong with experimenting with new flavours. Using seasonal fruit is always an economical and flavourful choice that you won't regret. What is your favourite type of crisp?
---
Related Posts
Bake an (almost) homemade blueberry pie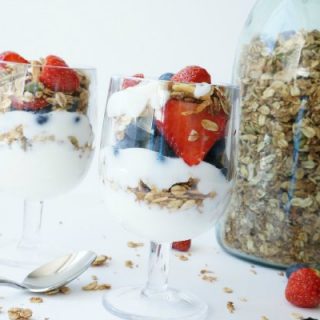 Make a batch of crunchy granola for a sweet parfait
---
BE SURE TO SUBSCRIBE TO KITCHEN COUNTER CHRONICLES TO HAVE OUR DELICIOUS RECIPES, FUN CRAFTS & ACTIVITIES DELIVERED DIRECTLY TO YOUR INBOX.
---