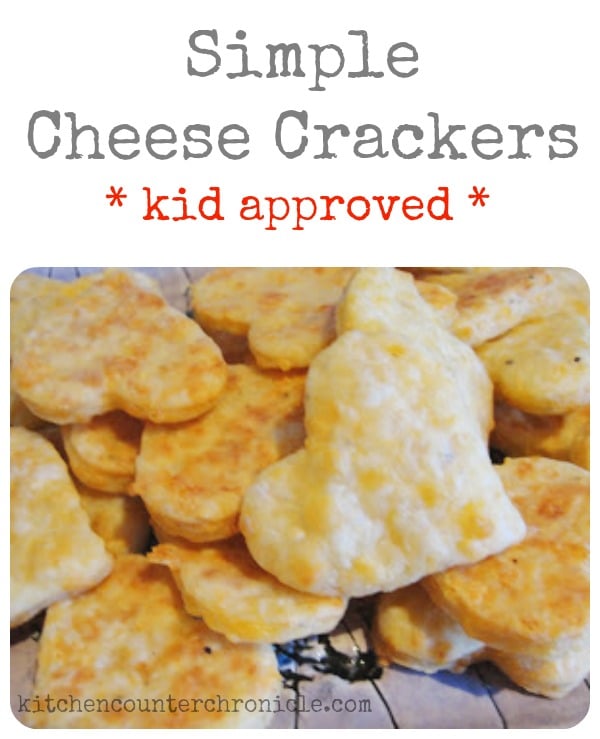 If there is one thing my children love more than me, it is cheesey crackers. That's what we call any cracker in our house that is small, orange, cheese flavoured and animal shaped. The big debate recently between my daughters and I was around the animal paw cheesey crackers. Apparently, these crackers are all the rage in the school lunch room. I said "no" they said "please". While I have supported the consumption of bunnies and penguins…something about those animal paws didn't sit right with me. When I finally caved, as they knew I would, my girls didn't even like them! So, now we have a bunch of animals paws taking up valuable real estate in my kitchen. And saying "I told you so" to a 7 year old and a 5 year old won't get you anywhere.
Then I came across this
recipe
and knew I had to try this homemade alternative. Why not make my own cheese crackers…cheese hearts!
Here's how to make these delectable crackers
Simple Cheese Crackers
1 cup all purpose flour
3/4 tsp salt
1/2 tsp pepper
1/4 cup cold unsalted butter – cut into small pieces
2 cups grated cheddar cheese
3 or 4 tbsp water
1. combine flour, salt and pepper in large mixing bowl
2. using pastry cutter, cut in cold butter until the mixture looks coarse
3. cut in cheddar cheese, in three batches, until mixture looks coarse
4. add 3 or 4 tbsp of water, until the dough comes together in a ball
5. transfer the dough to plastic wrap, store in fridge for at least 1 hour…allowing the dough to become firm
6. on a lightly floured surface, roll out the dough to 1/8″ thickness
7. using cookie cutter or knife, cut out desire shape – according to the original recipe the smaller the shape the crispier the cracker
8. bake in preheated 350F oven for 15-20 minutes
9. cool on rack and enjoy
The verdict is in…heart crackers are a hit! Try them with your family…let me know what shapes you make.
Check out all of our heart-shaped treats in our
Valentine's Day dessert recipe
collection
New to Kitchen Counter Chronicles and looking for more great ways to connect with your kids,
why not follow us on Facebook, Twitter, Google+ or Pinterest.