For your convenience, this post contains affiliate links
It's apple season. Here in Southern Ontario we are flush with local apples. Fortunately, our entire family loves apples…what is not to love? We craft with apples, we bake with apples and we cook with apples – they are the perfect fruit. It is no surprise that this past weekend I decided to bake a humble apple crisp. As I was standing there peeling the apples an idea popped in my mind. What if I baked the apple skins? What if I added brown sugar and cinnamon? What if I made caramelized apple skin crisps?
Caramelized Apple Skin Crisps
This one doesn't need an elaborate recipe. Simply set aside the skin of 6 apples, that was how many I needed to make my apple crisp. I like to peel my apples with a traditional hand held peeler. Combine 2 tbsp brown sugar, 1 tsp flour and 1/2 tsp of cinnamon in a small bowl. Toss the apple skins with the sugar mixture. Now, lay the skins, in a single layer, on a parchment paper lined baking sheet. Bake for 10 minutes, on the bottom rack of the oven, at 375F. Remove them from the oven, let them cool and then enjoy.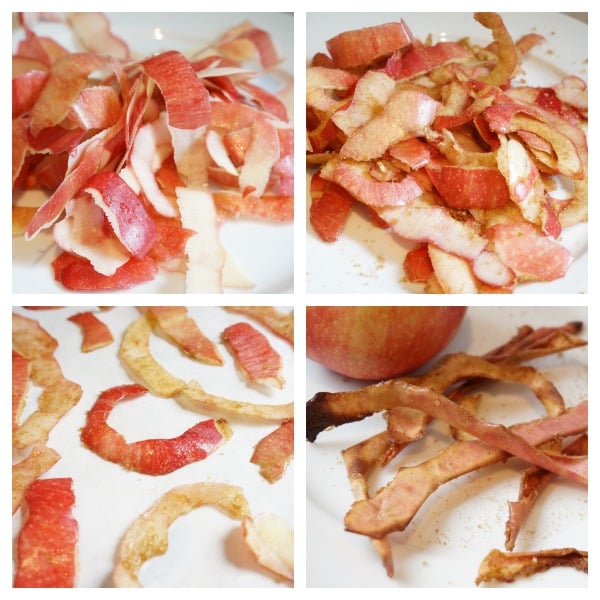 Once cooled the skins become crispy and sweet. They are seriously delicious. This is such an easy way to use up the apple scraps we generated. Because the apple crisp baked at the same temperature, I was able to bake the skins at the same time as the crisp. I know we will be making these caramelized apple skin crisps every time we bake any apple crisp or apple pie in the future. The kids gobbled them up!