Autumn is a wonderful time to curl up with a good book. You know I love sharing a great book list and while I have shared a list of our favourite fall picture books, I wanted to pull something together for the older kids. I hope your kids (or you) find some new favourites in our best fall chapter books for kids list.
Disclosure: There are Amazon Affiliate links in this article which means, at no additional cost to you, we could receive compensation for our recommendations. You can read our full disclosure policy on our Disclosure Page for more details.
What about autumn makes it great for reading a good book? I love sitting on my porch, pulling on a cozy blanket, sipping on a warm cup of tea and jumping into the pages of a book. These chapter books are set in the fall. You could read any sort of book in the fall, but isn't it fun to read books placed in the season you are living in? I think so. If your favourite fall chapter book isn't on my list, please let me know in the comments below. I'm always open to suggestions and love adding new titles to my book lists.
Best Fall Chapter Books for Kids
Before the Ever After by Jacqueline Woodson – (age 9-12) We are kicking off our list with an interesting and beautiful book, Before the Ever After. Woodson's book is written in verse – a series of lyrical pieces that come together to tell the story of ZJ and his family. ZJ is navigating through the consequences of his father's brain injuries, which he acquired while playing as a professional football player. Life is changing for ZJ and his family and he is finding ways to cope. A very touching story everyone is sure to enjoy.
The Vanderbeekers Lost and Found by Karina Yan Glaser – (age 8-12) The Vanderbeekers' books have made an appearance on a few of my booklists. If you love stories with big families and colourful communities, with various personalities, then you will the Vanderbeekers. This particular novel centers around the Vanderbeekers helping their landlord prepare for the New York City Marathon. When the kids discover a mysterious person living in their garden shed, they must decide how to help and if this person wants their help. A touching story that explores homelessness.
Apple Crush by Lucy Kinsella – graphic novel (age 8-12) Mixing things up with a middle-school graphic novel from Lucy Kinsella. We love a good graphic novel. The second book in Kinsella's series with Jen and Andy. This time around Jen and Andy are heading back to school and discover they are interested in different things. In particular, Andy is becoming more interested in boys! While Jen isn't so sure about boys and crushes.
Sophie Mouse The Maple Festival by Poppy Green (ages 5-8) Here's one for the early readers. Sophie is busy helping her mom prepare for the upcoming Maple Festival. This book paints a descriptive image of all things autumn. An easy read and delightful story kids will enjoy.
Ready Freddy Apple Orchard Race by Abbey Klein (ages 5-8) It's a fall field trip! Freddy's class is heading to the apple orchard. There's a little competition to find the hidden wooden apple and Freddy is on the hunt. All kinds of apple orchard fun!
Anne's School Days by Kallie George (ages 6-12) The third book in a series of reimagined Anne of Green Gables books, created for young readers. This book focuses on Anne's return to school and interactions with Gilbert. Oh, how those two can really get on each other's nerves. But, when Anne gets into trouble, Gilbert will step in to help.
Crenshaw by Katherine Applegate (ages 8-12) A beautiful story about Jackson and his family, who are dealing with precarious living conditions, physical disabilities and poverty. Jackson comes to rely on Crenshaw, a huge imaginary cat and confidant to help him cope. Crenshaw is a touching book that kids will learn from.
Jolly Foul Play A Wells-Wong Mystery by Robin Stevens (ages 10 yr+) We love every edition of the Wells-Wong Mystery series. Two young, modern-day Miss Marple's getting into all kinds of mysterious situations and having to sleuth out the solutions. In this case, a girl at Deepend School for Girls has been found murdered on Bonfire night! Daisy and Hazel find themselves in the midst of the mystery to find out what happened. A clever book for readers who love a good puzzle.
Pax by Sara Pennypacker (ages 8-12) Pax is a beautiful story of friendship and love between a boy and his dog. The story unfolds from the perspective of the boy, Peter and the dog, Pax. When Pax's family tragically dies and Peter takes him in they form a bond that cannot be broken. When they are separated Peter will go to any length to reunite with his friend.
Nancy Drew and The Clue Crew Ticket Trouble by Nancy Keene (ages 5-9 yr) Nancy Drew and her crew find themselves helping their friend Ned, at the school's Fall Festival. Ned's ride tickets have been stolen and they are on a mission to track down who stole the tickets and why. Oh, and they'd like to have some fun at the festival too!
The Friendship Garden Pumpkin Spice (ages 7-10 yr) I love a story set in a busy city with a lovely community garden. Autumn has arrived in the Friendship Garden and that means the Windy City Pumpkin Fest is upon us. But, as the festival approaches Kaya and Anna's prize pumpkin goes missing! Can they figure out what happened to their pumpkin before the festival?!
Shirley and Jamila's Big Fall by Gillian Goerz (ages 8-12) Shirley and Jamila are back to school and have a plan to deal with the school bully, once and for all. This graphic novel is filled with colourful images and a story about bullying in middle school. A fun and meaningful book for kids.
The Hobbit by J.R.R. Tolkien (ages 10+) Okay, I have to confess I love the Hobbit. Does this book technically take place in the fall? I'm not sure…it's Middle Earth and the adventure takes the reader into a wide variety of amazing locations. Something about this book makes me feel the chill of fall. If you and your kids haven't read The Hobbit, it is a more accessible venture into the Tolkien world. Venture with Bilbo Baggins (the hobbit) as he is reluctantly taken on the adventure of his lifetime.
A Fall for Friendship by Megan Atwood (ages 7-11) by Jenny Meyerhoff (ages 5-9) It's fall and Olive, Peter, Sarah, and Lizzie are making plans for Halloween. When they hear the rumour that the old barn, which they plan to host a Halloween party inside, is haunted the gang sets out to show everyone that ghosts don't exist. Filled with all kinds of images of a blustery fall, will they show everyone that ghosts aren't real…or are they real?!
Harry Potter Series by JK Rowling (ages 8+) Are the Harry Potter books set in the fall? Well, they all tend to start with the return to school…the autumn. So, I'm adding them to our fall chapter book list. I'm a firm believer that kids should read the books before they watch the movies. All the magic can be found on the pages of these books and what better time to crack them open than right now!
---
More Fall Book Ideas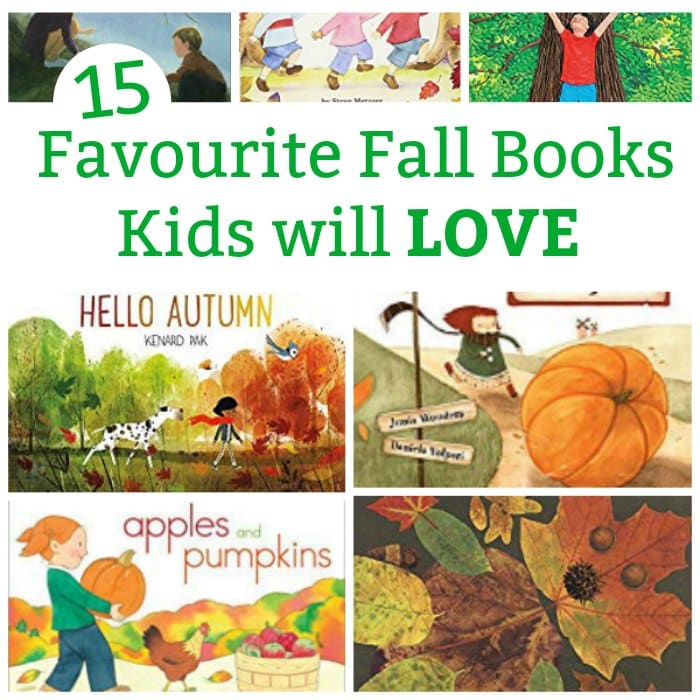 Looking for fun fall picture books for kids, we've got all the best books
What goes best with a new fall book? A fall bookmark to color, of course!
---
Make sure you are following along…
SUBSCRIBE TO KITCHEN COUNTER CHRONICLES TO HAVE OUR DELICIOUS RECIPES, FUN CRAFTS & ACTIVITIES DELIVERED DIRECTLY TO YOUR INBOX.
FOLLOW KITCHEN COUNTER CHRONICLES ON