Reading mystery books is a fundamental part of growing up in our house. Reading books of all sorts is always encouraged, but mystery books hold a special place on the bookshelf. In fact, we have 5 bookcases filled with my late mother's mystery novels in our basement.  My mother was a great lover of reading, specifically mystery books. So, I knew that I wanted to put together a collection of great mystery books for kids.
Be sure to also check out all of our amazing book recommendations on our EPIC Top Books for Kids page.
Disclosure: There are Amazon Affiliate links in this article which means, at no additional cost to you, we could receive compensation for our recommendations. You can read our full disclosure policy on our Disclosure Page for more details.
Kids' mystery books are engaging and entertaining – a great style of book for reluctant readers. Perfect for elementary students, middle school students, and even high school students. We have included the best mystery books series for kids and single classic mystery books for kids too. If you have a favorite that didn't make my list, please leave the name and author in the comment section below and I will gladly add it to the list.
20+ Best Mystery Books for Kids
Children's Mystery Books (6 yrs to 8 yrs)
A to Z Mysteries – The Canary Caper by Ron Roy – A fun mystery chapter book series for younger tweens. When Dink's neighbor's bird goes missing the kids have to uncover where that bird went and what the neighborhood cat has to do with it. (6 yrs +)
The Box Car Children Series by Gertrude Chandler Warner – With over 20 books in this mystery book series for kids, The Box Car Children is an engaging series of books that kids will love. Start at the beginning and work your way through all the mysteries along the way. (6 yrs+)
The Name of this Book is Secret by Pseudonymous Bosch – If your kid is ready to learn a BIG secret then this book is for you. The narration of this book makes it quite unique and engaging for young readers. (8 yrs+)
Vanished by Sheela Chari – Neela is a budding musician, she plays on her grandmother's sitar. Little does she know her grandmother's magical musical instrument contains the key to a mystery that is about to unfold. (8 yrs+)
Thea Stilton Series by Thea Stilton – A children's mystery book series that you don't want to miss. Adventures are always around the corner in the Thea Stilton books. The crew of mouselettes seems to be dealing with a new mystery wherever they go. (6 yrs+)
Nancy Drew and the Clue Crew Series by Carolyn Keene – This updated version of Nancy Drew is the perfect kid's mystery book series for younger readers. Nancy and her best friends solve mysteries and always seem to have fun along the way. (6 yrs+)
The Secret Garden by Frances Hodgson Burnett – At first look, this book may not seem like a mystery. However, what is hidden behind the garden gate? Why has sadness fallen over the house? The answers are part of the beautiful mystery. (8 yrs+)
The Great Shelby Holmes by Elizabeth Eulberg – The names are familiar (John Watson and Shelby Holmes) and you'll know the address (221B Baker Street), but the century is different and this is Harlem, New York…not London. John and Selby become ulikely friends who set about to solve a dog-napping mystery. (8 yrs+)
Who Stole Halloween? by Martha Freeman – When the neighborhood cats start to disappear, it is up to Alex and Yasmeen to solve this spooky (and silly) mystery. (8 yrs+)
Amelia Six: An Amelia Earhart Mystery by Kristin L. Gray – Looking for a mystery book with a set of strong female characters? This is the book for you. Millie and her friends are invited to spend the night in Amelia Earhart's home! When Amelia Earhart's goggles go missing from the group of girls take on the mystery.
Harriet the Spy by Louise Fitzhugh – Another classic mystery book for kids. Do your kids keep a journal? What fills those pages? Harriet's journal is amazing and just might get her in trouble or it could save the day. (8 yrs+)
The 39 Clues Series by Gordon Korman – A fantastic, quick-moving and page turning mystery that moves kids through the story clue by clue by clue. A really great mystery chapter book series for kids who like to devour books. (8 yrs+)
Floors by Patrick Carman – Take a ride in the elevator at the Whippet Hotel and you never know where you might end up. Each floor is a new adventure. When things turn sideways, will Leo be able to save the Whippet Hotel? (8 yrs+)
The Secret Spy Society: The Case of the Missing Cheetah by Veronica Mang – Have you ever wondered what it would be like to join a secret spy society? Well, jump into this book and you'll find out. A book filled with codes to crack, clues to follow and a mystery to solve. (8 yrs+)
Ballpark Mysteries Series by David A. Kelly – Take me out to the ball game and solve a mystery? Yep, a fun book series for your young sports fans. (8-10 years)
Mystery Chapter Books for Tweens (9 yrs+)
The Pear Affair by Judith Eagle – Take a trip to Paris with Nell and her (horrible) parents. Nell's vacation turns into an adventure as she attempts to track down her old au pair, Perrine (Pear). With the help of some newfound friends, Nell discovers there is more to the disappearance of Pear than she first suspected. This adventure will take Nell all over Paris as she follows every clue. (10 yrs+)
Chasing Vermeer by Blue Balliett – Chasing Vermeer is a twisting and turning mystery that combines adventure and art history. Will Petra and Calder solve the mystery in time? (9 yrs+)
Nancy Drew – The Secret of the Old Clock by Carolyn Keene – What a wonderful way to introduce your kids to mystery books. Nancy Drew is the original teen detective. The Secret of the Old Clock is the very first tale in this amazing mystery book series for kids. (9 yrs+)
Framed! by James Ponti – Florian Bates is no ordinary twelve-year-old kid. He's super smart and has created his own method for solving mysteries T.O.A.S.T. When Florian finds himself, and his friend Margaret, wrapped up in a huge mystery they have to put all his smarts and clever methods to the test to get themselves out of trouble. (10 yrs+)
Absolutely Truly by Heather Vogel Frederick – Truly Lovejoy and her family have to move from Texas to a small town in New Hampshire when her father is injured in Afghanistan. Her family is tasked with running the local bookstore. Truly must navigate the troubles of middle school at a new school, make friends and help her family at the store. Then she discovers a mystery in the pages of a priceless book that she must solve. A thoughtful, easy-to-read book for middle-schoolers. (9 yrs+)
Agatha Oddly The Secret Key by Lena Jones – I love a spin on an old favorite and this Agatha Christie inspired mystery/adventure book is so much fun! She's a school-girl turned into a detective, but can she solve the mystery in time?! (10 yrs+)
The Shadows (The Books of Elsewhere) by Jacqueline Woods – When Olive and her family move into the creepy Linden Street mansion, she couldn't know the mysteries that would unfold. Venture inside Elsewhere – at your own risk. This is a fun series for precocious kids everywhere. (9 yrs+)
Enola Holmes: The Case of the Left-Handed Lady by Nancy Springer – Who knew Sherlock Holmes had a young sister?! Follow along on Enola Holmes's adventure to find the mysterious left-handed lady all while she is being tracked down by the world's greatest detective…her brother Sherlock! A truly fun adventure book with a whole lot of mystery mixed in.
The Mysterious Benedict Society by Trenton Lee Stewart – This book became an instant favorite in our house. My kids devoured the entire series. Would you respond to an ad in a newspaper looking for gifted kids? These kids did! (9 yrs+)
Sherlock Holmes and the Baker Street Irregulars by Tracy Mack and Michael Citrin – If you love Sherlock Holmes then your kids are going to love meeting the Baker Street Irregulars. A fun mystery chapter book for tweens and teens to enjoy. (9 yrs+)
Minerva Keen's Detective Club by James Patterson – Best-selling author James Patterson takes a step into writing mystery books for tweens and we are glad he did. Minerva decides to start her own detective club when a few of her apartment neighbors are mysteriously poisoned. Can this 3 member club solve this mystery before more people fall ill or worse? A thrilling mystery that is sure to engage young readers. (9 yrs+)
The Bad Beginning by Lemony Snicket – It is always important to go start at the very beginning. Before your kids dive into watching the A Series of Unfortunate Events Netflix series, take the time to read the books. There's a lot of great fun in these totally tragic mystery books for kids. (9 yrs+)
The London Eye Mystery by Siobhan Dowd – Can Kat and Ted find their missing cousin, in London? And what does the London Eye have to do with this mystery? An adventure around the streets of London for mystery loving kids. (9 yrs+)
The Mysterious Howling – The Incorrigible Children of Ashton Place by Maryrose Wood – Take a step back in time and meet the strange, incorrigible children of Ashton Place. Who are these wild children and what is the mystery behind Ashton Place and the people who live there? (9 yrs+)
Cabin Creek Mysteries by Kristiana Gregory – Perfect for summer reading, head to the campsite for an adventure and a mystery. This series is great for outdoor-loving kids. (9 yrs+)
---
More awesome book lists for kids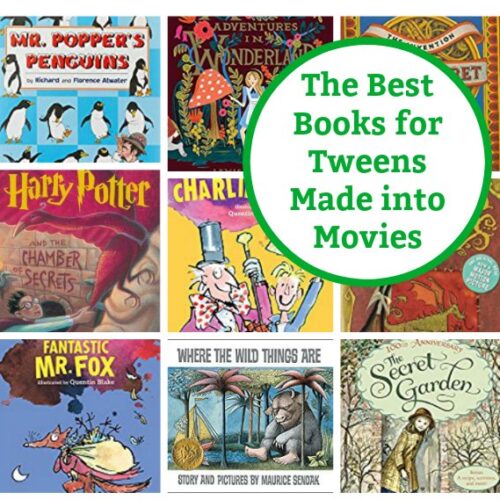 Read the book and then watch the movie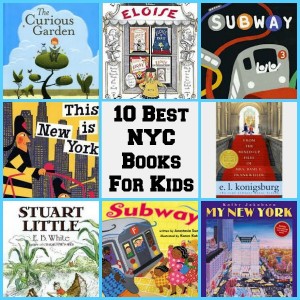 A fantastic collection of books set in New York City
---
Make sure you are following along…
FOLLOW KITCHEN COUNTER CHRONICLES ON
SUBSCRIBE TO KITCHEN COUNTER CHRONICLES TO HAVE OUR DELICIOUS RECIPES, FUN CRAFTS & ACTIVITIES DELIVERED DIRECTLY TO YOUR INBOX.