Our exploration of outer space kicked off with the creation of a LEGO solar system. We've share a lot of different STEM activities for kids over the years, but this one is totally out of this world! The girls had so much fun creating each planet and learning some interesting facts about each planet. After laying out the solar system on our living room floor, I decided that we needed a little more space to really illustrate the concept of planetary orbits.We gathered up our super fun LEGO planets and headed outside to the driveway to set up our solar system and play a planetary orbit game.
Once we had every planet in place, the girls drew each planet's orbit around the sun. An orbit is the curved path that a planet takes around the Sun (or a moon, star or planet). Each planet's orbit in our solar system is a different distance. For instance, it takes Earth 1 year to orbit the sun, while it takes Neptune 165 Earth years to orbit the Sun. To better illustrate this concept to my daughters we played a couple of planetary orbit games.
The first step was drawing the planets' orbits around the sun. Okay, they are not exactly the correct planetary orbit paths, but my daughter drew them and they're pretty good. Next, I had my one daughter count the number of steps, walking heel to toe, it takes to walk along a planet's orbit. We looked at three different planetary orbits.
We discovered that Earth's orbit took 10 steps, Saturn's orbit took 15 steps and Neptune's orbit took 26 steps.
Next, I had my other daughter use a stopwatch to measure how long it takes for her to walk along a planet's orbit. Again, we looked at three planets.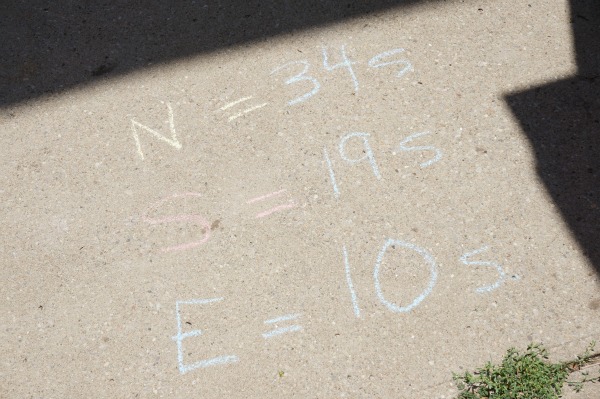 We discovered that it takes 10 seconds to walk Earth's orbit, 19 seconds to walk Saturn's orbit and 34 seconds to walk Neptune's orbit.
The girls concluded that the further away from the Sun a planet is the longer it takes to orbit the Sun…in both time and in distance. These games clearly demonstrated different planets take different lengths of time to orbit the Sun. They followed each planet's path around the Sun. They totally understand why it takes Neptune 165 Earth years to orbit the Sun. The best thing about this game was how proudly my daughters' explained orbits and the solar system to their father. I love how playing helps kids to learn and retain the concepts they learn. We can now check another item off our Summertime Fun List…what's next?