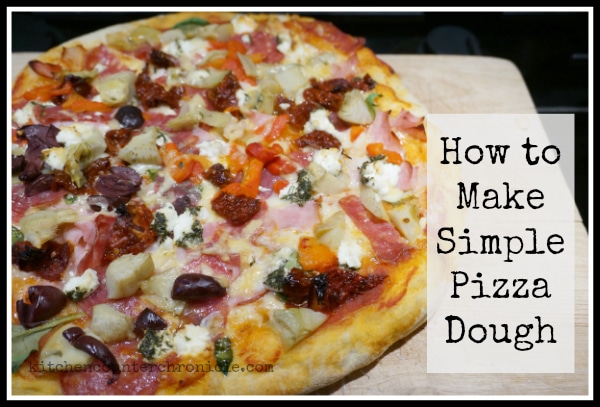 I love pizza. If I was stranded on a deserted island and could only have one food, it would have to be pizza. Every Friday night is pizza night in our house. A tradition that the girls love too. Typically, we buy fresh dough at our local grocery store. Fresh dough from the grocery store is a million times better than frozen pizzas..so, we've always been pretty happy. However, I have always wanted to know how to make simple pizza dough. People always tell me it's easy to do…you know what they were totally right. I searched the web for a recipe and I ended up sorta making my own version. As long as the basic elements are there, you can really do anything.
Simple Pizza Dough
2 1/4 tsp dry yeast or 1 packet dry yeast
1 1/2 cup warm water
1 tsp sugar
3 1/2 cups bread flour (or all purpose flour)
2 tbsp olive oil
1. Combine water, yeast and sugar in a large bowl…let sit for 5 minutes while yeast is activated.
2. Pour in the flour…you may want substitute 1 cup whole wheat flour for 1 cup all purpose flour…we like white dough.
3. Once the dough comes together, turn it out onto a lightly floured surface and knead the dough until it becomes elastic and slightly sticky. You don't want to add too much flour…it should be a little tacky. Roll into a large ball.
4. Oil the inside of a large bowl…the oil stops the dough from sticking to the bowl…place the ball of dough inside the bowl…roll it around so it is lightly coated with oil.
5. Place a cloth, or plastic wrap, over the bowl and place it in a warm spot to rise for about 1 hour, or until it doubles in size. I place mine on the counter over top of my running dishwasher…the heat from the dishwasher seems to work.
6. After the dough rises, punch the air out of the dough…now you can cut the dough into portion sizes…and let it rest, under a dish towel, for another 15 minutes. We usually cut our dough into 4 small pizzas that everyone can top how they like.
7. Place your ball of dough on a lightly floured surface, we use cornmeal or semolina flour for dusting. Begin by rolling out your dough with a rolling pin. Take your time, the dough will be very elastic. Spread, tap, push and pull the dough into the shape you want and the thickness you want. Transfer to a piece of parchment paper…this will make it easier to transfer into the oven.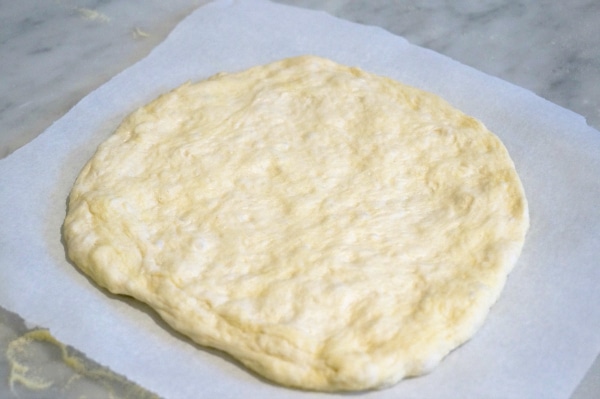 8. Top your pizza as you like. Place in a 450F oven for 20 minutes. We use a pizza stone, but you can place the pizza on an upside down baking sheet. The pizza is done when the bottom is golden brown. Enjoy!
Making this dough takes a little patience. However, it is delicious…seriously. You can make the dough, portion the dough, wrap the dough in resealable freezer bags and freeze the dough for future use. If you are using a frozen dough, defrost it on the kitchen counter, once it is thawed just place it under a dish towel, in a warm spot to rise for 10-15 minutes before using. You could make a whole bunch of batches and have them on hand in the freezer for weeknight dinners. So simple.