We are making our way through our summer fun list and this week I decided it was time to learn about outer space…with a LEGO solar system. We are always looking for fun STEM activities to make learning engaging for the kids – adding LEGO blocks to the mix seemed like a fun idea!
Disclosure: There are Amazon Affiliate links in this article which means, at no additional cost to you, we could receive compensation for our recommendations. You can read our full disclosure policy on our Disclosure Page for more details.
If your kids are curious about outer space then this activity will be perfect for them. We started by doing a little more research about our solar system, specifically, we wanted to learn more about the planets in our solar system.
Books About Our Solar System
We started our exploration by heading to our local library and pulling out some great books about our solar system. The library had a seemingly endless selection of books about outer space, but these ones were our favourite for planet-specific information.
The Planets: The Definitive Visual Guide to Our Solar System by Robert Dinwiddie
National Geographic Readers: Planets by Elizabeth Carney
Cool Facts About Planets in Our Solar System
Through our research, we discovered some cool facts about planets that we could incorporate in our activity…
Sun – the Sun is 150 million kilometres away from the Earth
Mercury – is the smallest planet in our solar system
Venus – is the closest planet to Earth and it doesn't have any moons
Earth – is our home planet…our distance from the sun allows for different seasons to exist
Mars – the "red" planet is currently being explored by the NASA Mars rover "Curiosity"
Jupiter – has over 60 moons
Saturn – the rings around Saturn are actually made up of pieces of icy rocks
Uranus – is actually spinning on its side
Neptune – furthest from the sun, it takes 165 Earth years to orbit the Sun
How to Make a Lego Solar System
After learning more about our solar system it was time to make get hands-on. We decided to build our solar system. While kids usually build a solar system with foam balls, we wondered if we could build each planet with LEGO blocks!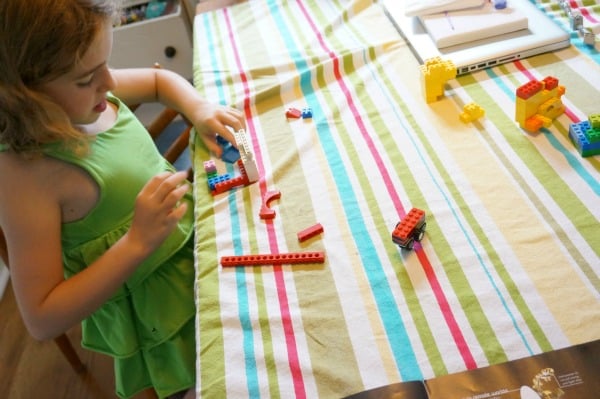 We started by making the sun…after all, it is the centre of our solar system. I simply gave my girls piles of LEGO blocks that had been divided by colour. They started with the pile of yellow blocks to build the sun, and then they moved on to creating all of the planets. Each planet has a unique colour and shape. While these planets aren't perfectly spherical they definitely look like the planets they represent. As they built, we did more research and discovered more interesting facts about each planet.
The kids built their way through the entire solar system.
Once the planets were made, we moved down to the floor. We set up the solar system on the living room floor. They had to arrange the planets in the correct order, in terms of their distance from the sun. Can you spot Earth? Can you spot our moon? Pretty cool, right? Your kids could take the time to build all of the moons or maybe add the International Space Station!
After building our solar system on the floor we thought, why should we be limited by the confines of our indoor space when we could head outside to our driveway? We packed up our solar system and moved outside…check out our planetary orbit game for kids.
What will your kids' solar system look like? How detailed will they build each planet? This is a fantastic, engaging educational activity for kids.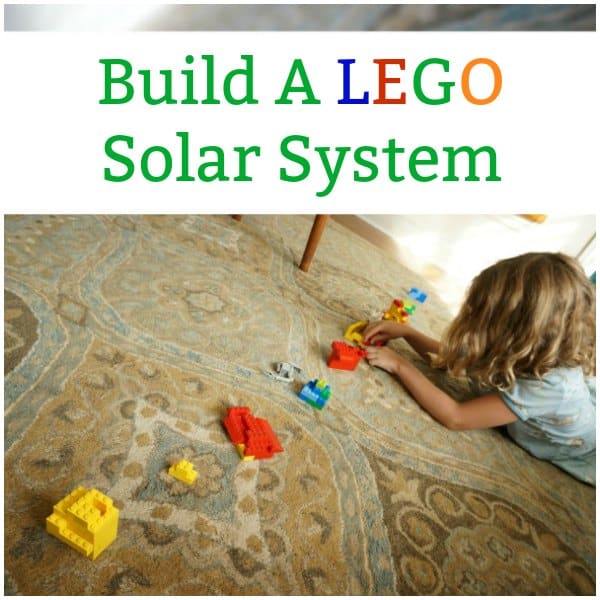 ---
More STEM Activities for Kids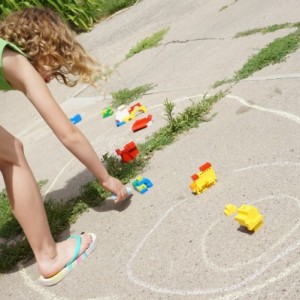 Make and play an outdoor planetary orbit game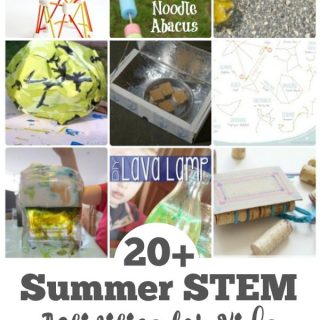 Check out all of these fun summer STEM activities for kids
---
Make sure you are following along…
FOLLOW KITCHEN COUNTER CHRONICLES ON
SUBSCRIBE TO KITCHEN COUNTER CHRONICLES TO HAVE OUR DELICIOUS RECIPES, FUN CRAFTS & ACTIVITIES DELIVERED DIRECTLY TO YOUR INBOX.