Here we go. The first edition of the Virtual Chapter Book Club for Kids. The theme for October is mystery…perfect for the spookiest month of the year. We recently took a trip to the Word on the Street Festival, here in Toronto. Word on the Street is an event focusing on books for all ages. We came across a booth with a book that caught my 7 year old daughter's eye. The book is titled "Graveyard Hounds" written by the author Vi Hughes. The book looked a little scary and very mysterious…perfect for the book club. So, we purchased the book and she had it quickly read in just a few days.
The author Vi Hughes lives on the west coast of Canada. Hughes was a teacher and principal and now works part-time as a literacy instructor. She spends her spare time writing children's books, "Graveyard Hounds" is her first novel. While the title, and the summery on the back cover, looked a little scary the book was actually not very scary at all. The main characters have to solve the mystery of where all the town dogs' barks have gone. It turns out to be quite a fun mystery, all happening around Halloween. My daughter loved the book. Since the book takes place in October, my daughter thought it was the perfect book to read.
After reading the book I was inspired to create a little dog mystery for my daughter to solve…The case of the missing graveyard hound mystery. First, I wrote up a note and a list of clues.
To add to the mystery I wrote the note in an extremely small font. My daughter had to use a magnifying glass in order to read the note…very sleuth like.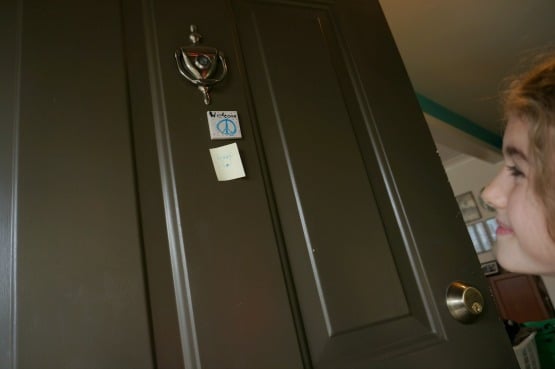 The clues were pretty vague, I tried to make it as challenging as possible. Each clue led my daughter to a different graveyard hound.  One clue simply read "Welcome" – which led my daughter to our front door. Another clue read "Not silver, but —-. Not toe, but ——". That clue led her to our James Bond "Goldfinger" poster. I stuck six post-it notes with drawings of dogs all over the house.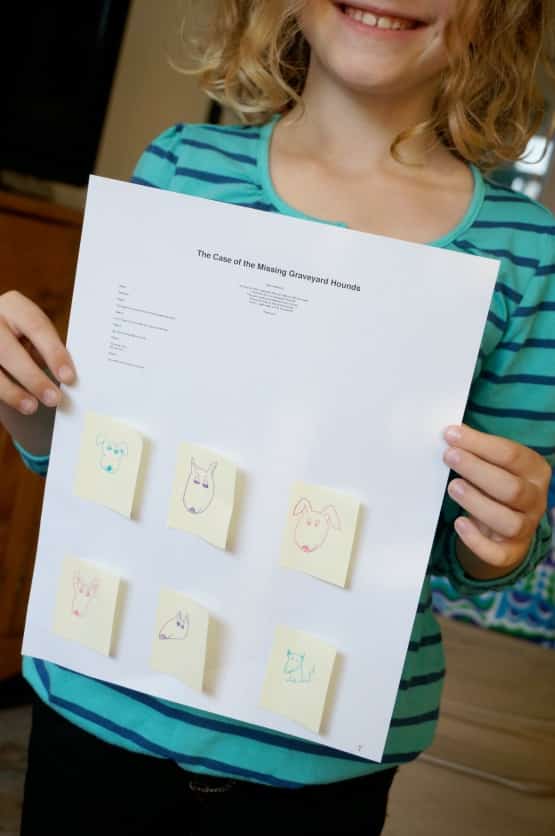 This was a perfect after school activity. At the end of the day, my girls are always looking for fun ways to transition from school to home. The clue hunt easily combined reading with problem solving. In the end, my daughter collected up all the dogs. Adding the challenge of using a magnifying glass was a lot of fun. I can see how this activity could be changed up for any kid's mystery chapter book.