I would love to introduce you to the beautiful official flower of Ontario, Canada – the Trillium. If you are out on a hike in an Ontario forest in the early spring, you might come across this delicate woodland flower. When you find a Trillium it is like discovering something magical. Their simplistic shape, 3 petals and 3 leaves, is captivating. I have always loved Trilliums and I was happy to recreate them in this simple Trillium flower craft for kids….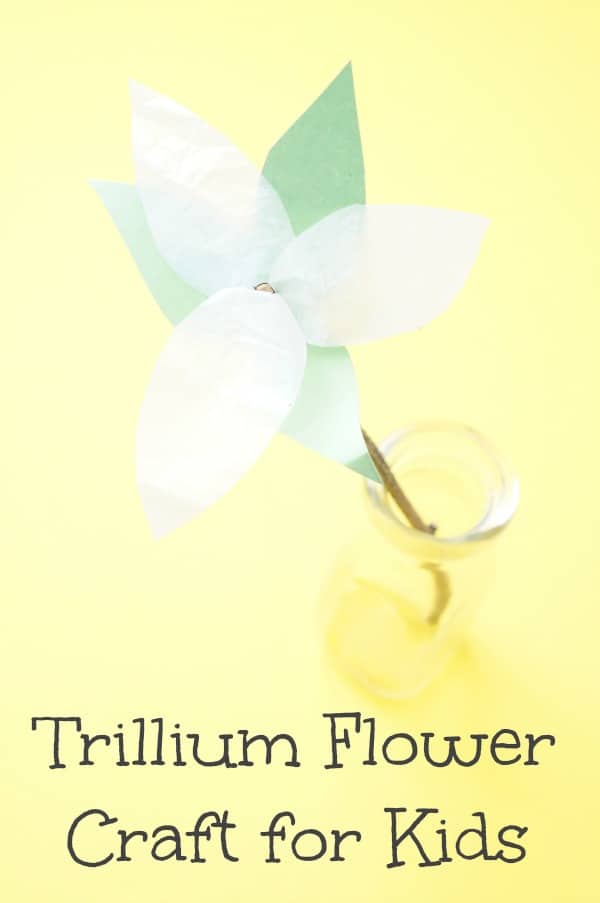 Trillium Flower Craft for Kids
white tissue paper
green construction paper
a thin stick
tape
scissors
When you discover Trilliums on the forest floor, you quickly realize that while the flower is quite delicate looking the stem it sits upon is tall and strong. The stem raises the flower head above the underbrush and toward the streams of sunlight that peek through the treetops. So, the first step to making our own trillium is to find a tall, thin stick – which will be our stem.
Next, we need to cut out the petals and leaves. As I said, and as you can probably guess from the name "trillium" – this flower is all about the number 3. We had fun reviewing our 3 multiplication table as we made our flowers. Since the trillium's petals are so delicate, we used white tissue paper to make our petals. Cut three petals and three leaves, from the green construction paper.
Use the tape to attach the petals to the top of the stick. Trillium leaves are evenly spaced…they are a real mathematical marvel.
Once the petals are in place, tape the leaves under the petals. These leaves are called bracts – the bract is located just below the flower head. Bracts can serve to protect a flower, to help aid in pollination and may be need for a plant to propagate. In the case of the trillium, the bracts serve to protect the bud as it emerges and grows – the bracts also serve as the way the primary source of energy for trilliums. The bracts are very important to the trillium.
We finished off our trillium by adding a narrow strip of construction paper to cover the tape, below the flower. That's it. The trillium is such a simple flower. My daughter and I were out walking through a small woodland area this past weekend and we came across some trilliums…their flower faces popping up. It was a wonderful discovery that I hope you are able to experience one day in the woodlands of Ontario, in early spring.
Today's post is part of the Tour the World by Flower blog hop being hosted by Playground Parkbench. I hope you will take a tour around the world and check out all the lovely flowers, crafts and activities.
Be sure to subscribe to Kitchen Counter Chronicles to have our delicious recipes, fun crafts & activities delivered directly to your inbox. You may also follow along Facebook and Twitter.