In preparation for our upcoming trip to New York City we decided to give our kids a little preview through these New York City movies for kids.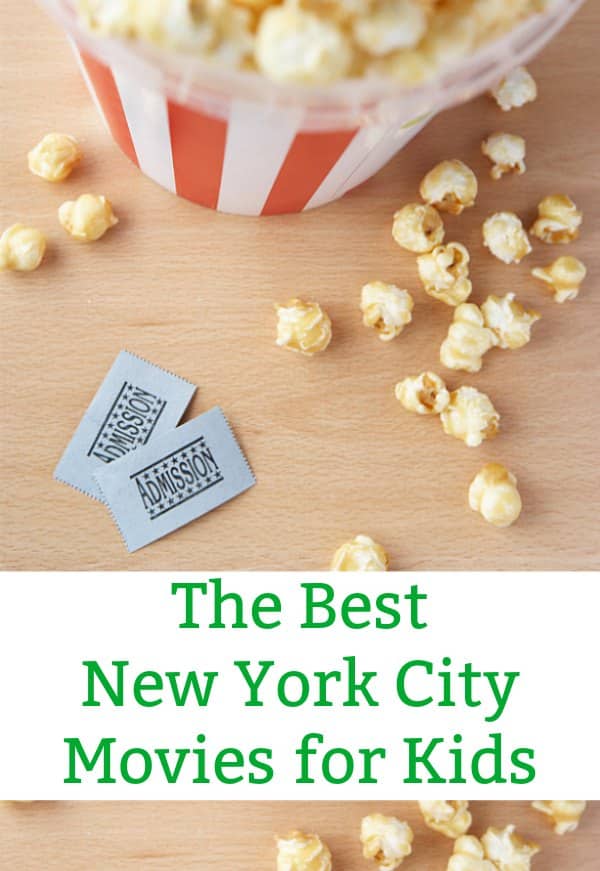 for your convenience, this post contains affiliate links
I originally put together this list way back in 2013…5 years ago. We are heading back to NYC, with the kids, this fall and I thought this would be the perfect time to update my list of kids movies set in New York. So, I'm adding movies that have been released in the past 5 years. I'm also including movies that older kids will enjoy.
The goal of this list is to provide a list of super fun family movies that are set in New York that will give kids a glimpse into life in the Big Apple.
Family Movies Set in New York

The Muppets Take Manhattan
This one is my favourite Muppet movies…I love seeing Manhattan from a Muppet's point of view. What an adventure they have in the nitty-gritty city.
Ghostbusters
While the Stay-Puft-Marshmallow man is not a permanent fixture in NYC, you will see many landmarks throughout the movie.
Yes, we love the original Ghostbusters, but please give the updated – all female – Ghostbusters a chance. There are some seriously hilarious moments in this one.
Enchanted
It's the classic story of a small town girl who is dropped into the middle of NYC…will she find her prince? Check out the big dance scene in Central Park…awesome!
Night at the Museum
Every kid's dream comes true – the American Museum of Natural History comes to life at night. Plan to visit the museum on your visit to NYC and check out all the characters from the movie.
Superman
Okay, so Superman flies through the skies of Metropolis…but isn't it really New York City? Introduce your kids to one of the original superhero movies.
Big
Tom Hanks dancing on a gigantic floor keyboard in FAO Shwartz, need I say more?
An American Tail
A new perspective of New York City, through the eyes of a Russian immigrant mouse. Who knew we could learn about immigration from a little mouse?
West Side Story
This one is for the older kids. A modern interpretation of Romeo and Juliet…with plenty of dancing and finger snapping.
Fame
Another one for the older kids and another one that is packed with passion and lots of dancing.
Elf
I know that this one is technically a Christmas movie…and there are plenty of Christmas movies set in NYC…but Elf is filled with so many memorable shots of New York. I know that our trip will include each of us saying "Remember in Elf…"
Fantastic Beasts and Where to Find Them
Enter the magical world of witches and wizards in NYC, back in 1926. A totally new way to take in the sights of New York.
This one was suggested by a reader and I couldn't believe I didn't include it in the original list. Of course, who doesn't love poor overlooked Kevin McCallister and his holiday spent in New York…all alone. The perfect Christmas movie.
Spider-Man Homecoming takes place in New York City, following the destruction of New York that takes place in Marvel's The Avengers movie (another good NYC movie). Spider-Man swings through the city and there are some beautiful skyline shots too.
Take a trip to the borough of Harlem and discover a modernized version of the incredible songs and story of orphan Annie. This update, starring Jamie Foxx, is full of laughs and a very happily ever after moment. All while driving and flying over New York City.
So, what is your favourite kid's movie set in New York City?
I would love to hear your suggestion.
---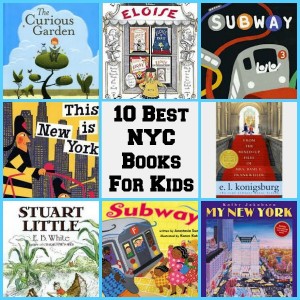 Check out our collection of books for kids that are set in New York City
---
Make sure you are following along…
SUBSCRIBE TO KITCHEN COUNTER CHRONICLES TO HAVE OUR DELICIOUS RECIPES, FUN CRAFTS & ACTIVITIES DELIVERED DIRECTLY TO YOUR INBOX.
FOLLOW KITCHEN COUNTER CHRONICLES ON
---