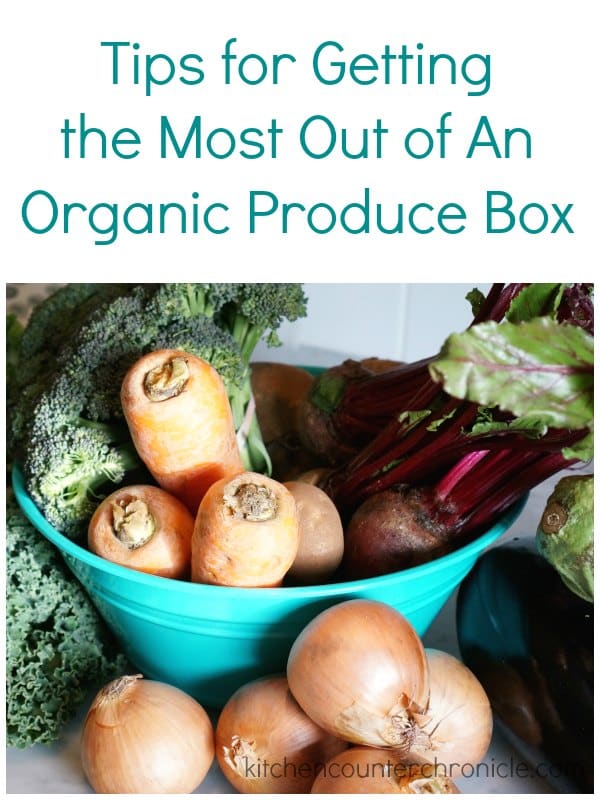 There are many, many reasons why eating organic produce makes sense, especially for growing families. Once a family has made the decision to shop organic the first concern they generally have is how to keep it affordable. There are organic produce box services that will deliver a box of quality organic, locally sourced (when possible) seasonal and well-priced fruits and vegetables. The best part about using these services is they are delivered right to your front porch. I'm sharing a few tips for making the most of your organic produce box – to reduce food waste and help you spend your money wisely. Be sure to check out all of our amazing Green Living Ideas for Families.
Tips for Getting the Most Out of An Organic Produce Box
Eat Seasonally
Organic bins are packed with seasonal fruits and vegetables. Seasonal fruits and vegetables are of the best quality, plentiful and most delicious. Seasonal produce is also the most cost-effective option…produce that is readily available is going to cost less. However, we aren't necessarily accustomed to eating seasonally. The never-ending availability of countless fruits and vegetables at the grocery store has led to our desire to eat whatever we want, whenever we want. Shifting to organic fruits and veggies makes you appreciate the natural seasonality of produce.
Store Produce Properly
Once the box arrives it is important to store the fruits and vegetables properly. Organic produce is not sprayed with preservatives and waxes so they have to be handled appropriately. If you know that your kids will eat carrots if they are peeled and sliced, then store them that way. Make eating fresh and delicious produce easy by storing it correctly and making it easily accessible to kids.
Freeze What You Won't Eat Right Away
The easiest way to reduce food waste (aside from eating the food) is to freeze what you aren't going to eat right now…so you can eat it later. Most fruit and vegetables can be easily frozen. Clean, chop, freeze on a baking sheet and transfer to a freezer-safe container…that's it. Bulk shop for fruit during the summer months, so you have local, organic fruit all winter long for smoothies, ice cream and sauces. Vegetables can be frozen and kept for stews and stocks.
An Opportunity to Something New
While it is possible to customize the produce in the organics bin, take a chance on something you have never tried before. One of the best things about organic produce boxes is they offer an opportunity for kids to try new and interesting vegetables. Our box from Organics Live came with eggplant – a vegetable that we never, ever bring home – this week we'll be finding out how to prepare eggplant.
Use the Provided Recipes
Most organic produce delivery services will have an easy-to-navigate website and helpful e-newsletter. The site and newsletter are filled with recipe ideas, food storage information and organic eating tips. Sign up for the newsletter and take full advantage of the resources the organic produce box service offers…after all they know what is in the bin and the best ways to use it.
Have you ever used an organic produce home delivery service? How did it work out for you?
---
Make sure you are following along…
SUBSCRIBE TO KITCHEN COUNTER CHRONICLES TO HAVE OUR DELICIOUS RECIPES, FUN CRAFTS & ACTIVITIES DELIVERED DIRECTLY TO YOUR INBOX.
FOLLOW KITCHEN COUNTER CHRONICLES ON