It is week three of  the Go Green Challenge from the folks at Toronto's Green Living Show. All month long I will be trying out awesome products and services that help families lead greener lives. The best part – I will be sharing my experiences and the products and services with you. Be sure to read through to our awesome eco-friendly giveaway.
Spring is in the air, which means it is time for the dreaded sunscreen application dance. You know the one I mean. When mom chases toddler around the house with a bottle of sunscreen in her hand. Why oh why won't my toddler sit still and let me put on the sunblock? Well, I've made it through the toddler years and I've come out the other side with a few tips for applying sunscreen on kids. Stop the dance and get the block on.
Tips for Applying Sunscreen to Kids
Mommy First – Set a good example by applying sunscreen on a regular basis. Show your little one that you like wearing sunscreen…monkey see – monkey do.
Early and Often – Make a habit of applying sunscreen on your kids. If sunscreen is applied every time the kids are going outside, it becomes part of their "getting ready to go out" routine. No fuss, no muss.
The Right Product – Before applying the sunscreen on the kids, try it out on your own skin first. Some kids (and adults) are sensitive to thick and sticky lotions. Try the sunscreen on your own skin, how does it feel? Children with sensory issues may prefer sprays over lotions. Make the experience pleasant for your little one.
Spots or Squiggles – A fun way to get the kids to like putting on sunscreen is to turn it into a game. Ask if your child wants spots or squiggles. If they choose spots, dot the sunscreen all over their arm before rubbing it in. If they choose squiggles, draw long squiggly lines before rubbing it in. My kids loved this game – it worked every time.
Rhyme Time – Kids love songs and rhymes. Make up a silly song to sing while you apply the sunscreen. To the tune of One Two Buckle My Shoe "One, Two open the cap. Three, Four squirt it on. Five, Six spread it around. Seven, Eight it feels great. Nine, Ten let's do it again!" Silly, but helpful.
Talk to Your Toddler – Have a little chat with your child about why they need to wear sunscreen. Sunscreen is there to protect your skin and keep you safe from the sun. It's never too young to talk with your kids about making healthy choices.
The Giveaway
Our third Go Green Blogger Challenge giveaway comes courtesy of EcoParent Magazine, Goddess Garden Organics and the Green Living Show.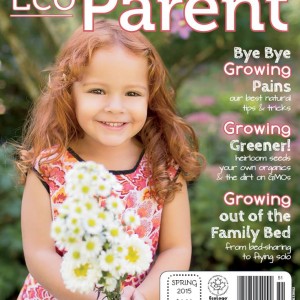 EcoParent Magazine is Canada's leading magazine for families who are looking for environmentally friendly alternative for their children and their lives. The quarterly magazine features stories from across the country touching on topics that include; food, health and beauty, books, travel, home, garden and much more. The winner will receive a 1 year print and digital subscription to EcoParent Magazine (valued at $145)
Goddess Green Organics is the manufacturer of non-GMO, all natural, 100% biodegradeable, 100% reef safe sunscreen products for baby, child and adults. Goddess Green Organics strives to use natural minerals to protect skin from harmful UVA/UVB rays. The winner will receive a Goddress Green Organics prize pack that will include; 1 tote bag, 1 water bottle, 1 3.4oz baby natural sunscreen, 1 Kid 6oz Sport Natural Sunscreen Continuous Spray, 3 mini 1oz sunny body tubes, 3 pillow packs, 10 toxicity cards and 1 trainer.
The winner will also receive 4 Green Living Show passes and 4 Yoga Show passes.
This giveaway runs until midnight March 25th 2015. Winners must pick up their prizes at the Media Office at the Green Living Show in Toronto between March 27-29th, 2015. Prizes will not be shipped.