If you live in the US or Canada then you have probably been living through an incredibly cold couple of weeks. Between the loads of snow that have fallen and the bitterly cold winds that have been blowing, it has been a wintery winter thus far. We have actually been having a lot of fun using the cold weather to our advantage…making beautiful ice ornaments. A fun winter craft project that will show the kids the beauty of the cold.
It only made sense that if it feels like a freezer outside…why not have fun freezing things outside. We gathered up some supplies and set to work making ice ornaments.
Simple Ice Ornaments
First, we gathered up our supplies. We used flat bottomed plastic containers and an ice cube tray to freeze the ornaments in. We collected branches from our discarded Christmas tree, frozen banana slices, blueberries and orange peels. We felt it was important to use things that could be eaten by wildlife and would decompose once the ornaments melt on our front lawn. We also needed kitchen string and scissors…to make the hangers for our ornaments.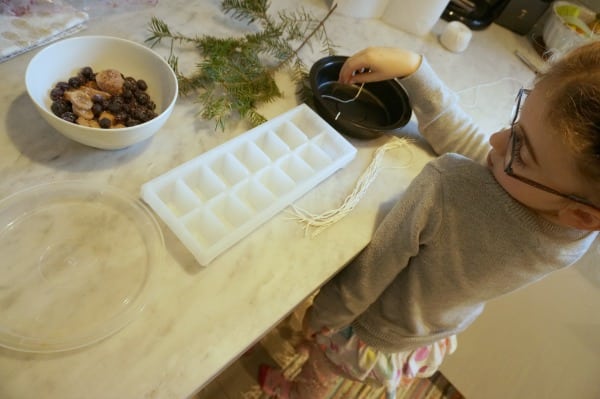 Next, we cut and tied our kitchen string into loops and placed them partially in the plastic containers…but left part of the loop hanging outside of the container. Make sure you leave a loop large enough to hang the ornaments on your branches.
Once our supplies were gathered and the strings were in place, we set to work filling our containers. My youngest daughter is obsessed with owls at the moment, so she used the banana pieces and some orange peel to make an owl face in one of the containers. Fill the containers with as much or as little as you like.
Then we carefully filled the containers with water. Pouring the water slowly and directly onto the items in the containers helped the designs stay in place.
Finally, the containers were placed on our front porch to freeze. It didn't take too long for everything to freeze.
Once everything was frozen we set about popping the ice ornaments out of the containers. The owl turned out really well, better than I expected.
The ice cube tray ornaments hang perfectly in our little evergreen tree. I love how the ice ornaments swing in the trees.
These ice ornaments were simple to make. I wish I could have fully captured the joy this activity brought my daughter. We had such a great time making, waiting and hanging our ice ornaments. Wait until you see what else we were inspired to freeze…more to come.
Looking for more ways to connect with your kids?
Follow Kitchen Counter Chronicles on

Facebook

,

Pinterest

, and

Twitter