Last week we were in the midst of our family road trip and we found ourselves on Prince Edward Island. Before going to Prince Edward Island there were a few things that I already knew about the island. First of all, Anne of Green Gables was from PEI (and author Lucy Maud Montgomery), PEI is famous for lobster fishing, and PEI's number one export is potatoes. We were able to confirm each of these facts during our trip. We did indeed visit Green Gables, we saw plenty of lobster traps (and lobsters) and we saw endless farm fields growing potatoes. For today's post I took my inspiration from Canada's smallest province and created a deliciously simple potato tart with bacon, PEI cheese and rosemary. This tart would make a lovely lunch, afternoon snack or appetizer for a dinner party. The best part is tasting the flavours of our family road trip and enjoying a healthy dish with my family.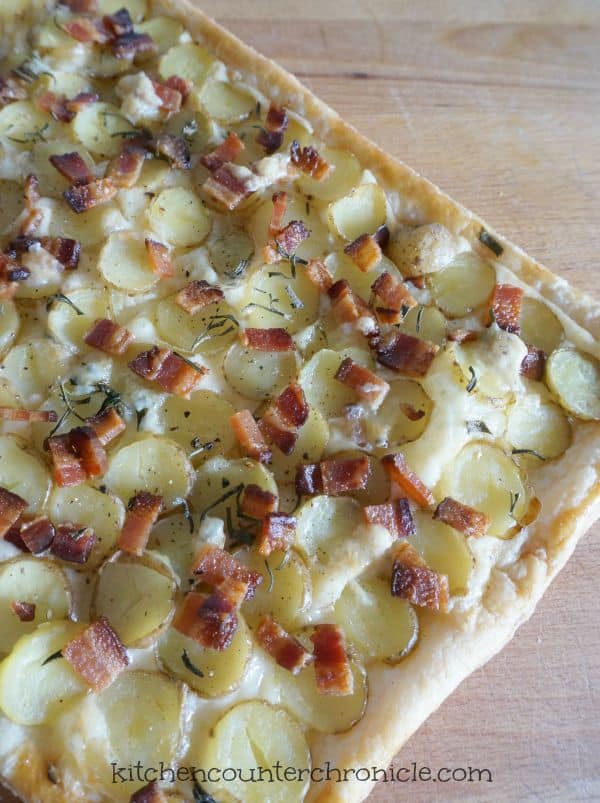 Potato Tart with Bacon, Cheese & Rosemary
2 cups PEI new potatoes (small potatoes)
4 pieces of bacon
8 ounces cheddar cheese, sliced thinly
1 tbsp chopped fresh rosemary
salt and pepper
egg
ready made puff pastry
Method
Boil the potatoes until tender, drain and set aside to cool completely. Once cooled slice potatoes into consistently thin slices.
Cook bacon, until crispy and set aside to cool completely. Once cooled, chop bacon finely.
Roll out sheet of puff pastry, to 2mm thick, on lightly floured surface. Cut pastry to fit on parchment paper lined baking sheet.
Layer thinly sliced cheese on pastry, leaving a 1/2 inch edge.
Layer thinly slice potatoes on top of cheese.
Sprinkle finely chopped bacon and rosemary over potatoes. Dust with salt and pepper.
Lightly beat an egg and brush egg on exposed edge of puff pastry.
Bake in 375°F oven until golden brown on edges and on the underside of tart…approximately 20-25 minutes. Baking time will vary, depending on the size of your baking sheet.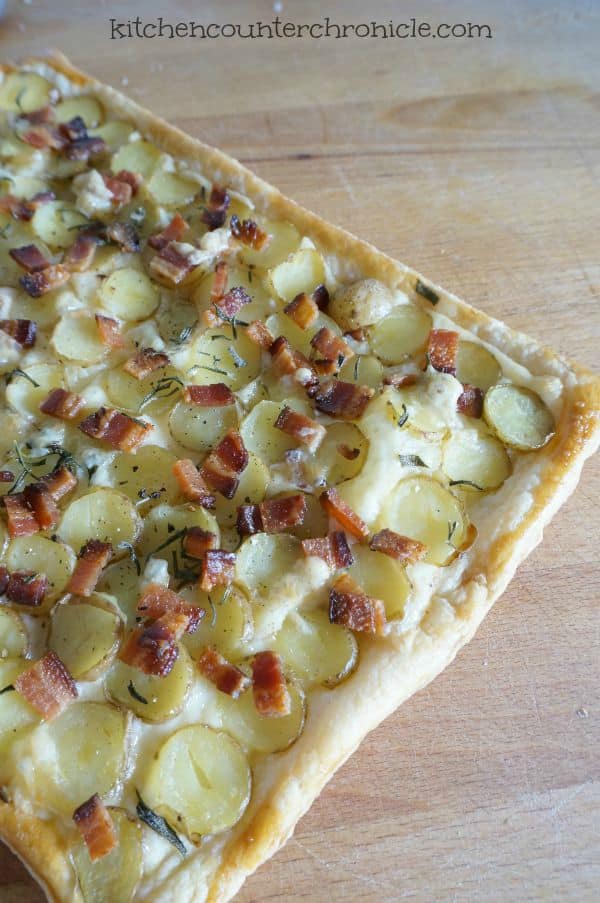 Remove from baking sheet and let cool completely before slicing and serving. Enjoy.
Today's post is part of the Tour the World by Food being hosted by Playground Parkbench. I hope you will take a tour around the world and check out all the delicious foods being shared.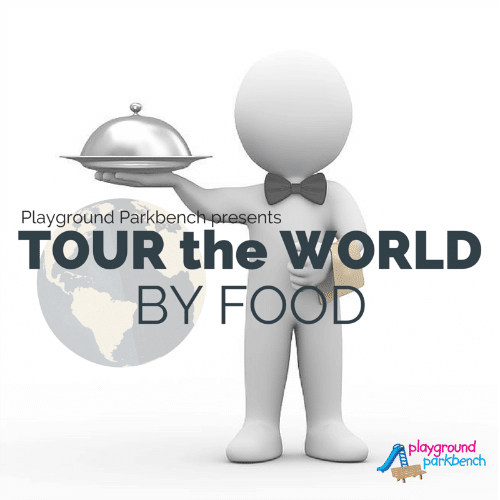 Be sure to subscribe to Kitchen Counter Chronicles to have our delicious recipes, fun crafts & activities delivered directly to your inbox. You may also follow along Facebook and Twitter.
Looking for more fun family food inspiration? Check out our Family Food & Recipe board on Pinterest.
Follow Jen at KitchenCounterChronicle's board Family Food and Recipes on Pinterest.