Oh my goodness – I have a daughter who is obsessed with owls. Do you have a child who loves something? Is it cars, is it dogs or dinosaurs? When you discover that your child has a passion for a particular subject or a particular thing, this is the perfect teachable opportunity.
for your convenience, this post contains affiliate links
A love of owls has lead our entire family to local conservation areas to meet bird of prey education sessions. We have borrowed countless books about owls from the library. There was an owl birthday party, complete with an owl cake, owl crafting and owl loot bags. Every new owl exploration has involved reading, writing, creating. Following a child's passion will always lead to learning.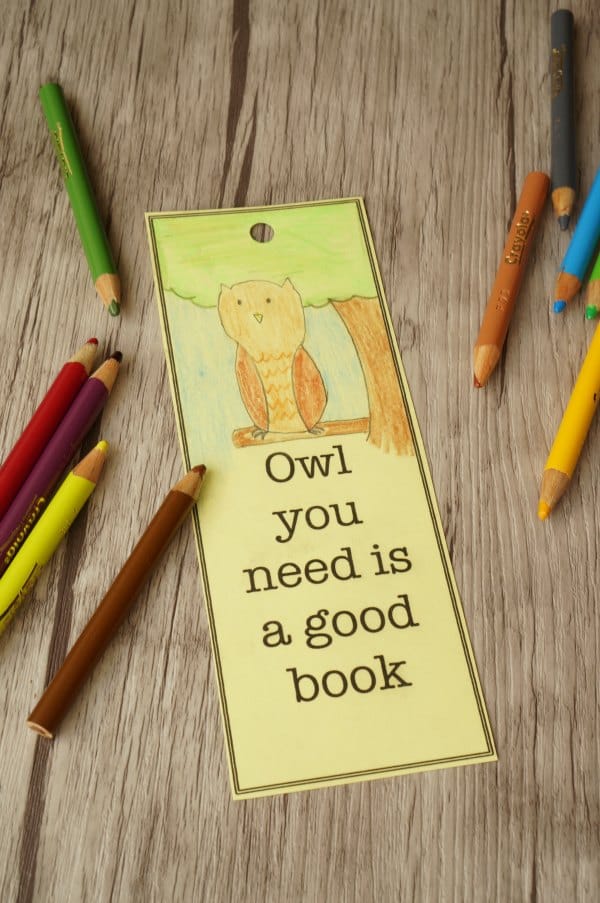 So, when I was thinking about contributing to the 31 Days of ABC's series this year, I knew we had to select the letter "o" and we had to create a fun owl activity. Inspired by all the owl books my daughter has read, we wanted to make an owl themed bookmark. We designed a blank printable owl bookmark. Print off the bookmark and let your kids get creative. Depending on the age of your child, this bookmark will look very different. A preschooler, an early reader and a grade schooler will use their imaginations differently.
Make an Owl Bookmark
cardstock
ribbon
whole punch
markers, pencil crayons, scissors
Print off the blank owl bookmark template. We used heavy card stock paper so that our bookmark will be more durable.
Next, it's time to start designing the owl bookmark. We chose to use the quotation "Owl you need is a good book". Feel free to add have your child add her own words to the bookmark. "Reading is a hoot" "Owl hold your spot for you".
My daughter chose to draw owls sitting on a branch in a tree – one is a little more colourful than the other. Take inspiration from some of our favourite owl books.
Owl Babies by Martin Waddell
National Geographic Readers: Owls
Punch a hole in the top of the bookmark.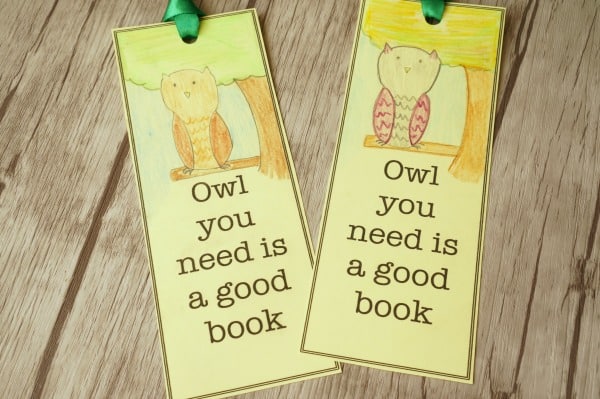 Then feed the ribbon through the hole. Make sure the piece of ribbon is long enough to fall outside of the book. Doesn't it look lovely in our Wind in the Willows book?
These bookmarks are a beautiful reminder of my daughter's love for owls. They are also a chance to encourage her to read and write even more.
What is your child's passion? How can you support that passion with learning opportunities?
---
It's time again for another fantastic month of alphabet fun with the 31 Days of ABC! All this month you can look forward to 31 more days of activities, crafts, books, apps, and more, all dedicated to teaching young children the alphabet.
I am so happy to be working with an amazing group of kid bloggers, who will be sharing their ideas with us in the coming days. So join us as we jump, skip, hop, and read our way through the alphabet this October!
Find more great resources in our series from past years: 31 Days of ABCs 2013, 2014, and 2016!
Don't forget to follow our 31 Days of ABCs Pinterest board for even more great ABC ideas!
---
31 Days of ABC
Teaching the ABCs – October 1
A – October 2
B – October 3
C – October 4
D – October 5
E – October 6
F – October 7
G – October 8
H – October 9
I – October 10
J – October 11
K – October 12
L – October 13
M – October 14
N – October 15
O – October 16
P – October 17
Q – October 18
R – October 19
S – October 20
T – October 21
U – October 22
V – October 23
W – October 24
X – October 25
Y – October 26
Z – October 27
Bambini Travel: Z Is for Zoo Animal
123's – October 28
Prewriting – October 29
Books, Songs, & Apps – October 30
Printables – October 31
---
LOOKING FOR MORE WAYS TO CONNECT WITH YOUR KIDS?
COME JOIN KITCHEN COUNTER CHRONICLES ON FACEBOOK AND PINTEREST.
BE SURE TO SUBSCRIBE TO RECEIVE OUR IDEAS DELIVERED TO YOUR INBOX.
---