I have never met a kid who doesn't love macaroni and cheese. If you know of such a child, I would like to meet her. There are few things more delicious than homemade macaroni and cheese.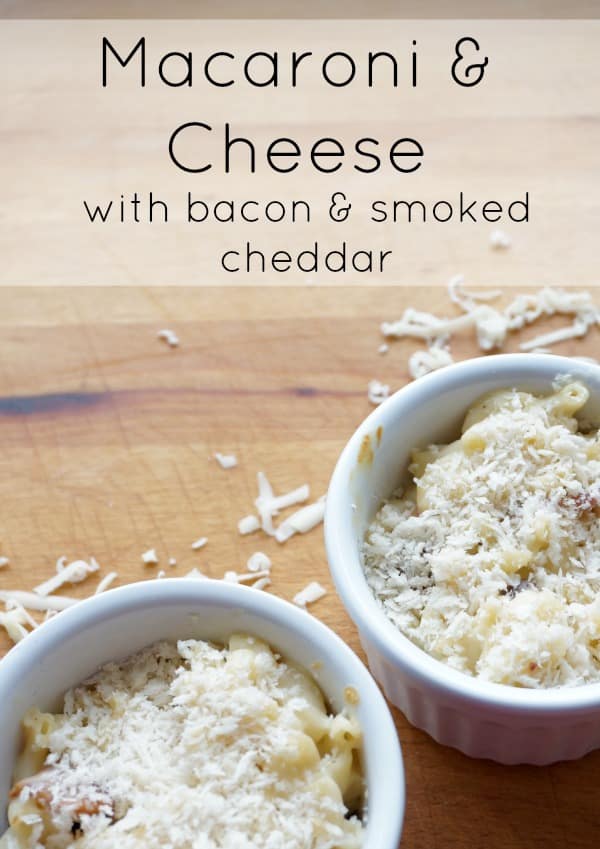 It is a quintessential comfort food. I recently received a copy of "The Mac + Cheese Cookbook" from the folks behind the popular Homeroom restaurant, in Oakland, California. An entire cookbook devoted to the mighty mac and cheese. We hosted a birthday party a couple of weeks ago and decided to place mac and cheese (with bacon and smoked cheddar) front and centre on the menu. We made a minor change to the original bechamel sauce recipe. We used 2% fat milk instead of whole milk.
Macaroni and Cheese with Smoked Cheddar and Bacon
For the bechamel sauce
3 cups 2% fat milk
1/2 cup unsalted butter
1/2 cup all purpose flour
8 cups cooked elbow pasta
1 pound baked and finely chopped, bacon
1 cup grated smoke cheddar cheese
1 cup grated jack cheese
1 cup panko bread crumbs
1/2 cup grated parmesan cheese
Warm the milk in a pot over medium heat, until it starts to bubble. Remove from heat.
In a heavy bottom pot, I used a dutch oven, melt the butter. Once the butter is melted add the flour and whisk until the flour mixture is light brown…about 2 minutes. Remove from heat.
One cup at a time, pour warm milk into the flour mixture…whisk constantly. The sauce will become very thick after the first addition and then thin out when you get all 3 cups added. After all the milk is added, return the pot to medium heat.
Continue to whisk until the sauce thickens – about 2 minutes.
Add in the smoked cheddar and jack cheese, stir until cheese has melted into the sauce.
Stir in cooked pasta and cooked bacon.
Scoop the cheesy macaroni into individual ramekins or one large baking dish. Cover with panko bread crumbs and parmesan cheese.
Bake in 400°F oven for 10-15 minutes for small ramekins or 20-25 minutes for large baking dish. If you would like your topping extra golden, place the mac and cheese under the broiler for 1-2 minutes.
To make the mac and cheese party perfect we used ramekins to create individual serving sizes. Kids and adults loved the little pots of mac & cheese. The smokey cheddar combined with the salty bacon was a perfect combination. Truth be told, we have made this recipe 3 times since that first party. It has quickly become a family favourite. So, who has a kid who doesn't like mac & cheese? I think this recipe will change her mind.