My daughters have a new found love of broccoli (insert applause). When they were babies broccoli was a favourite and then somewhere along the way it fell out of favour. Thankfully, broccoli has returned to our dinner table. Which means our crisper is full of broccoli. Unfortunately, I've discovered that organic broccoli starts to go "bad" rather quickly. There's nothing worse then reaching for veggies and finding they have turned yellow and limp. That's why I was so happy when KitchenAid® sent me a their handy new Produce Preserver to try out. I knew that trying it out with our fresh broccoli was the best place to start.
To be honest, I was a little concerned that the KitchenAid® Produce Preserver might not fit in our tiny crisper. We own a smaller than average fridge…a taller and shallower fridge. Our crispers aren't huge, but the Produce Preserver fit just fine. The suction cups mean that the preserver can be attached inside any style crisper.
So, how does this little device help keep produce crisp longer? Well, it's all about the Keep Fresh packets inside. As vegetables ripen they release ethylene gas. Different gases from different fruits and vegetables start to have an impact on the other items in the crisper. The Keep Fresh packets inside the Produce Preserver absorb the ethylene gas, thus extending the life of fruit and vegetables in the crisper.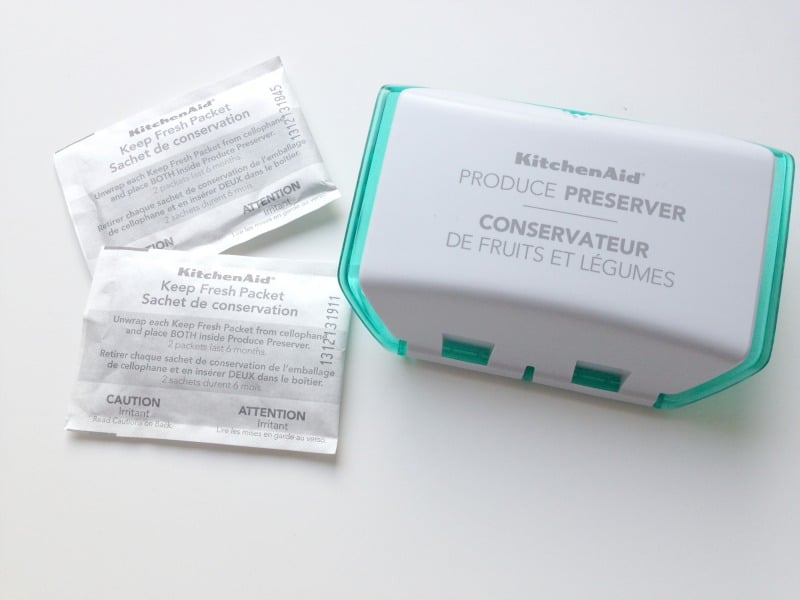 How did it work for our family? Since the beginning of the year, our family has been on a mission to make small changes that will have a greater environmental impact. One of the shifts we are trying to make is finding ways to waste less food…like our broccoli. I wasn't really sure how it would work – but it has made a difference. Our broccoli, and other veggies, are staying green and crisp longer than we are used to . I love finding simple tricks that make a big difference. Instead of throwing away food, this device buys us more time to eat the food we love.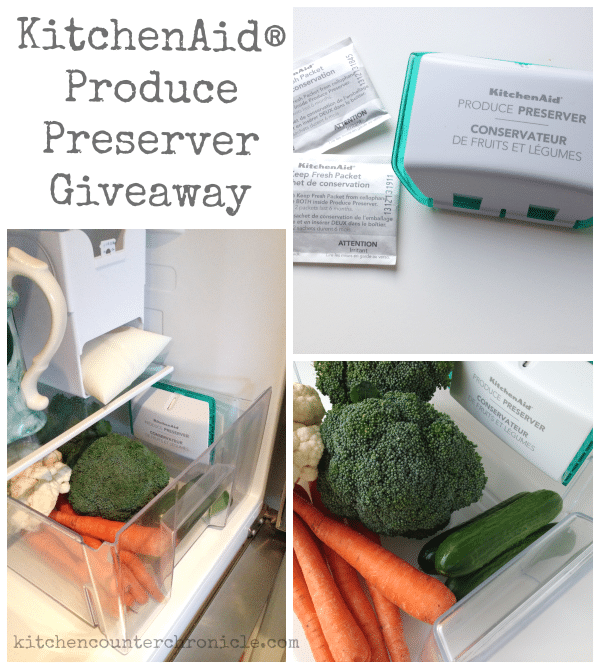 I am so excited to be able to give you a chance to win your very own KitchenAid® Produce Preserver. I know that our household isn't the only household throwing away produce. Canadians spend approximately $40.80 per week on fresh produce, and we throw away roughly 10% of those purchases….that's a lot of money wasted and a lot of food wasted. Enter to win your own KitchenAid® Produce Preserver kit and a $50 gift card so you can fill your crisper with fresh produce. This giveaway is open to Canadians (except in Quebec) and ends midnight (EST) October 6th. Good Luck!