Our green thumbs have been busy working in our gardens lately. Once the growing season starts, there really is no stopping. I love spending time in the yard with my girls. We've been busy watering our gardens with our rain barrel water and our veggies are very happy! In the same way that it is important to teach my girls the ABC's and 123's I know it is just as important to teach them how to grow their own food and appreciate the earth. This past week we got to work doing some maintenance on our cucumber plants and our tomato plants….we built our own garden trellis.
DIY Garden Trellis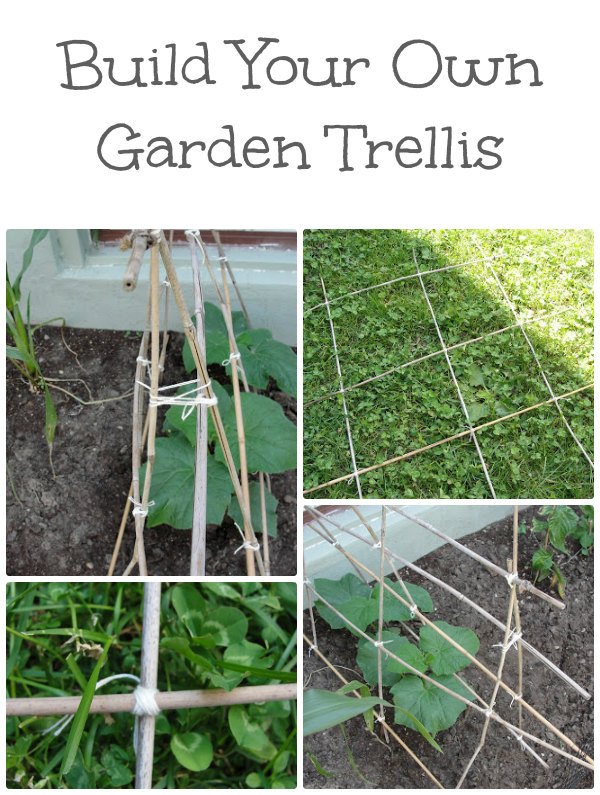 Cucumber plants are actually vines…great big, huge leafed vines. So, like all vines they need a trellis. This year we decided to make our own two sided trellis. Here is we built it.
12 x 3′ bamboo stakes
twine
scissors
1. Lay out 6 of the bamboo stakes in a hash tag pattern on the ground.
2. Where the stakes cross, fasten the stakes together with the twine. Wrap the twine around, in all directions and knot.
3. Use the twine to fasten all stake joints.
4. Lay out the second set of 6 bamboo stakes and create a second trellis.
5. Push the two trellises into the garden soil on either side of the cucumber plant.
6. Bring the tops of the trellises together, above the cucumber plant, and fasten together with more twine.
7. Watch your cucumbers climb and grow!
Pinching tomato suckers
The second task in our garden was pinching tomato suckers? Who knew such a thing existed! If you are growing tomato plants, then you need to make yourself familiar with tomato suckers. They divert the plants energy away from the creation of fruit. The sucker is the small branch that grows out in the crotch between the vine and the branch. Fortunately, they are easy to remove. However, you have to be diligent.
Identify the sucker…
Pinch off the sucker, using your thumb and forefinger…this is the best approach as it is gentle and using pruners could introduce potential infection to the plant…
My girls loved helping identify the tomato suckers. It was like a vegetable scavenger hunt! I really hope this tip sticks with them. Building the trellis was a great exercise too. Our cucumbers have already started to climb up our simple support system. I love building with items we already have, rather than always going out and purchasing something new. That's really what living a green life is all about.