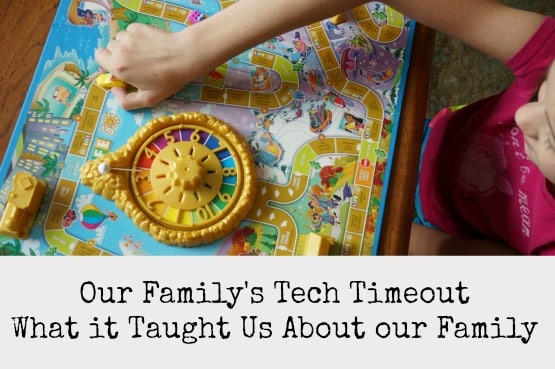 School has started. Summer vacation is over. It's time to sit back and reflect on all the fun we had this summer. You might remember that our family signed up for the Tech Timeout Challenge by life insurance provider Foresters, way back in June. Our whole family signed a contract and agreed that we would take a daily, one hour time out from technology. I was fairly optimistic when we signed up. I wasn't being naive, I knew we would face some challenges. So, are you curious to hear how we did? Did we keep our commitment you ask?
The answer is quite interesting. I would love to say that we totally stuck to our commitment. I would love to tell you that we all sat around, every single night, for one whole hour without using any technology. But, I don't think that would be totally truthful. I can say that we tried.
In fact, I actually think that we did pretty well. As I had predicted it was easy to find things to do that did not involve any screen time. We played many rounds of the board game Life. We played a lot of dominoes. My kids discovered the joy of lining dominoes up and knocking them down…over and over again. Some nights we all grabbed our books and caught up on some reading.
The biggest challenge we faced was getting the entire family involved, at the same time. What I hadn't realized was how late my husband actually gets home from work. Most nights he doesn't arrive home until after 7pm. My girls go to bed around 8pm. So, that didn't give us a lot of time for dinner and an hour spent together without technology. This entire exercise emphasized how much time I spend with my girls and how little time my husband spends with my girls. It was quite eye opening.
In the end, our summer tech time out was a lot of fun. All I had to say was, "Girls! Tech Time Out!" and they knew it was time to play some sort of game. Will we be continuing our commitment throughout the school year? Now that school has started up again we are back to our family's regular routine of no television during the week and only 20 minutes a day on the computer. I have a feeling that once the homework starts and all the extra curricular activities kick in the computer time is going to be gone too. As for next summer, we'll have to wait and see.
Did you sign up for the Tech Time Out Challenge by insurance provider Foresters? How do you spend your tech-free time with your family?
Disclosure: This post was generously sponsored by insurance provider Foresters, but the opinions and the images are my own. For more information, please visit
www.techtimeout.com
.