Well, here we are. The end of 2017 and time to roll out all the "best of" lists.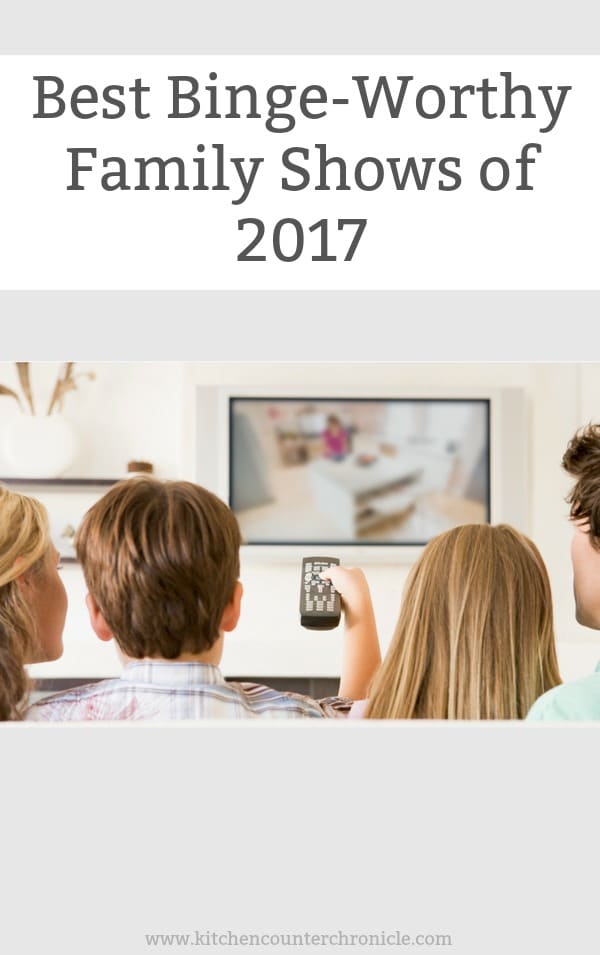 This year has brought about a change in our viewing selections. As my girls get a little older, we are able to watch more challenging content together. We still love our classic favourites, but a few new programs have been added to the list.
Best Family Binge-Worthy Shows of 2017
13 Reasons Why – Watching this series with my daughter was a truly amazing bonding experience. I don't think we will ever forget piling into my bed, huddling in the blankets with the laptop, watching the stories unfold. Not only was the story profound, but the entire experience was memorable.
Stranger Things – This series introduced the idea of "binge watching" to my youngest daughter. After the very first episode she was hooked. We laughed, we cried and we spent some time hiding behind the couch cushions (it gets scary). A fun family experience.
The Crown – While my kids weren't on board with watching The Crown, my husband and I dove straight in. Binging on this series was so very easy.
Jane the Virgin – Can you say guilty pleasure? That's exactly what this new-style soap opera is for our family. My teen discovered it and the rest of the family has been hooked by the constantly twisting storyline…and the narrator is amazing. If you have a teen – this show is a must-binge.
Brooklyn 99 – Okay, how fabulous is this series? Comedic and yet they cover tough subjects (racism, police profiling, homophobia, etc). We seriously could watch each episode 1000 times…we actually might have.
Birthday's with Netflix – This year Netflix introduced the fun birthday celebration feature. Click through and the characters from your child's favourite shows will wish them a happy birthday. My daughter loved it!
Project MC2 – We love this team of smart, funny and fashionable tween girls. As soon as a new episode was released, my daughter and her friends would rush home to watch it. I love the injection of science and technology. Being a nerd is so cool.
Netflix and Canada – Okay, this one isn't a "binge" best of – this one is a "Netflix best of". A few months ago Netflix announced that they are going to be investing $500 million dollars on Canadian productions, over the next 5 years. Their investment in Canada will include promoting Canadian content on Netflix, creating productions in Canada and helping give a voice to Canadian stories. I am super excited to see how this investment plays out in the coming years.
Okay, now I'm very curious to know what you have been binge watching. What did your family watch in 2017?
---
BE SURE TO SUBSCRIBE TO KITCHEN COUNTER CHRONICLES TO HAVE OUR DELICIOUS RECIPES, FUN CRAFTS & ACTIVITIES DELIVERED DIRECTLY TO YOUR INBOX.
---