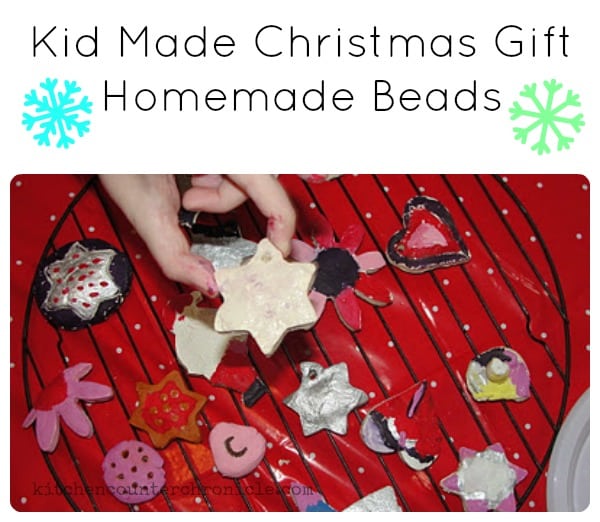 So, while I would love to tell you all about the craft we worked on this past weekend…I can't it is top secret Christmas gift stuff. Instead, I can share with you what craft we worked on last Christmas! This blog didn't even exist back then, yet somehow I knew to take some pictures and document all the work! Ha! Last Christmas my girls made our family members necklaces and magnets, with homemade beads that they made from a simple recipe. The best thing about this craft is that it had a few steps, that ran over a couple of days. That meant we had plenty of exciting things to do in the days leading up to Christmas! Here is what we did.
Homemade Beads
1-1/2 cups salt
4 cups flour
1-1/2 cups water
waxed linen cord
jewelry spring clasps
magnetic strips
1. whisk dry ingredients together in a large bowl
2. gradually add the water until the clay becomes dough-like
3. divide into smaller balls…cover whatever clay you are not using
4. make desired shapes:
    * make beads by rolling into balls and using a toothpick make a hole through the middle
    * roll out the dough and use holiday cookie cutters to make shapes,
use a toothpick to make a hole for the necklace string.
* shape dough into small blocks, engrave initial with toothpick and
make a hole for the necklace string
5. place the beads on a parchment lined baking sheet and bake in a 300F oven for 30-40 minutes
6. once firm and dry, place the beads on a cooling rack – until completely cool
7. paint the beads with acrylic paints
8. once dried, seal the beads using an acrylic sealer (like
Modge Podge
)
Once the beads are done…
1. using a glue gun, attach the magnet strips to the back of the bead
OR
2. cut a length of waxed lined cord, long enough to comfortably fit around a neck
3. feed the end of the waxed linen cord through the hole at the end of the clasp and knot it in place
3. the necklace is complete
These necklaces and magnets were fun to make and my girls were so proud of their artwork. So, if you are looking for a fun way to occupy your kids as we edge ever closer to Christmas – give this recipe a try.