When I found out my sister was pregnant I knew that I would be planning a baby shower. The pressure was on. A million ideas danced around in my head. I had to pick a theme and then get down to creating. Fortunately, I had a lot of help from my 2 sister-in-laws. I knew that books had a significant place in our hearts, so why not make it a party to build this little boys library! We tried to incorporate classic children's books into every aspect of the party; invitations, decorating and food. Here are a few things that we included in our library themed baby shower.
We started with the invitation…first stop, Etsy. When I came across these adorable library card invitations, that I could have customized, I knew I had found the perfect invitations. Check out all the
various Etsy artists
who are selling variations of the library invitation.
The next step was decorating. Even though it broke my heart to do it – I cut apart a second hand book and sewed a super cute book bunting. I used a large Beatrix Potter book that I picked up at a used bookstore for $2. To make the bunting I cut the pages into large triangles.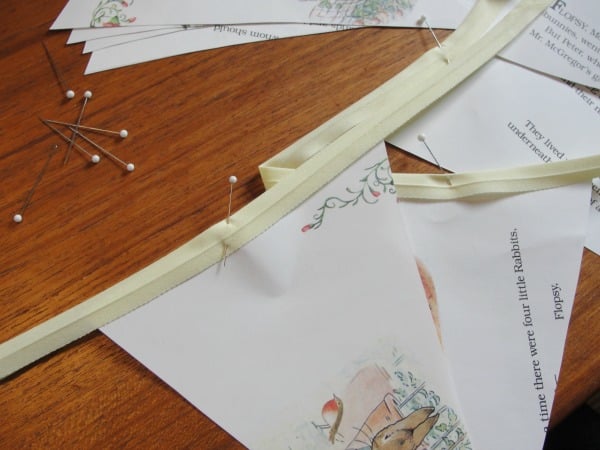 Then I pinned the triangles to a long piece of binding.
Finally, I ran the bunting through my sewing machine, fastening the paper into the bunting. The bunting looked amazing hung around the house. I simply used removable hooks to hang the bunting.
Next came the food for the party. My friend lent me the book "
Cherry Cake and Ginger Beer
" by Jane Brocket. This cook book is filled with recipes for foods from different children's books. With this cookbook we were able to bake and cook dishes from various children's books.
Green eggs and ham quiche, Wind in the Willows water cress sandwiches, Pippi Longstocking ginger snap cookies. I printed off the names of each dish to make labels. I glued rectangles of book pages, from the same book I used to make the bunting.
We topped the lunch off with a stunning 4 tier stunning strawberry layer cake from Anne of Green Gables. It was super tall and very tasty.
Of course we also decorated with piles of books all over the house. This was an easy decoration and my girls were able to do all of the decorating. They placed out all of their favourite books; Geronimo and Thea Stilton, Rainbow Fairies and Nancy Drew.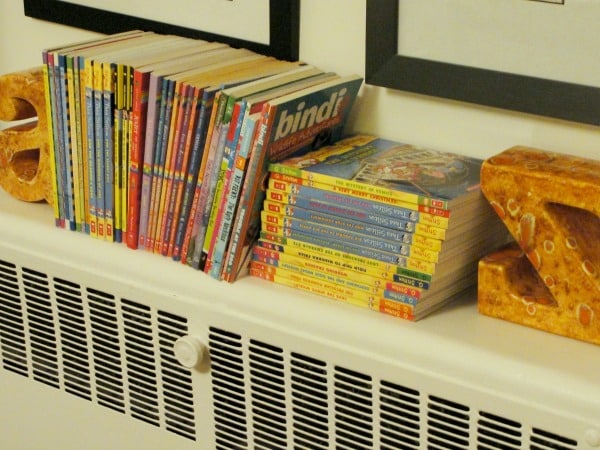 As an extra present, we created a book filled with advise. We asked each guest to write a few words of wisdom for my sister. I compiled the notes in a keepsake book. Again using up pages from the Beatrix Potter book for added colour.
Now, the take home gift for each guest was a bag with gummy worms…book worms (sorry, didn't get a photo of that one). And, we made a bookmark for each guest. I just fell in love with the quotation "Children are made readers on the laps of their parents" by Emilie Buckwald. To print off your own baby shower bookmark simply click the link. They make such a lovely keepsake for book lovers of all ages.
So, that was our baby shower. Now the baby is here and hopefully will enjoy all of his books one day. The best part was hearing the stories behind the books selected. Everyone gave books that were truly significant to them. My sister is well loved and so is the new babe.
Have you hosted a baby shower before? What theme did you choose?
---
Related Posts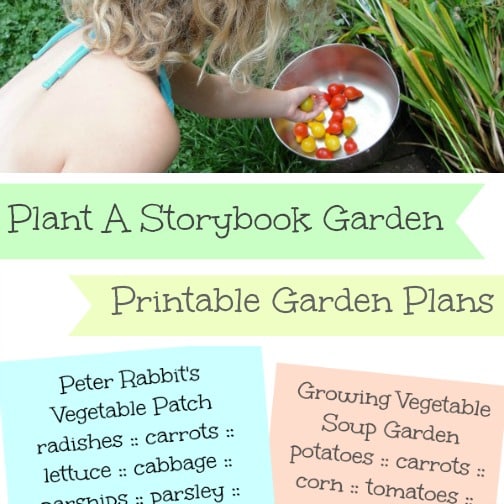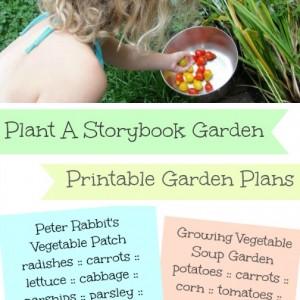 Plant a storybook garden with your kids
Enjoy a storybook inspired meal
---
LOOKING FOR MORE WAYS TO CONNECT WITH YOUR KIDS?
COME JOIN KITCHEN COUNTER CHRONICLES ON FACEBOOK AND PINTEREST.
BE SURE TO SUBSCRIBE TO RECEIVE OUR IDEAS DELIVERED TO YOUR INBOX
---