We have been enjoying all that we are growing in our backyard vegetable and herb garden. I love having a constant source of lettuce on hand in the summer. Last week, however, our lettuce brought with it an unexpected summer guest. A small, green and creepy little guest…a cabbage butterfly caterpillar. She landed on our kitchen counter as I was cleaning the evening's lettuce. Unfortunately, I didn't take a picture of it's lovely soft green body…but you can check out an image here. Like any naturalist mama I suggested we pop her in a jar and take a look at her when we have a chance…it was dinner time after all. So, into a mason jar with a piece of plastic wrap, with holes poked in it, our guest went. The next morning, this is what we discovered in the jar.
A caterpillar no more…now a beautiful crysallis. Somehow our guest had arrived on the eve of the biggest transformation in her life…she was becoming a cabbage butterfly. Fortunately, I already own a butterfly house, from our previous adventures with monarch caterpillars, so I moved our guest into a new room…the butterfly house suite.
A few days passed, and we weren't really certain if our guest was going to be flying home or not. You never can tell what is happening in that magical little cocoon. However, on around the 3rd day I noticed that through the tissue paper thin covering I could make out the markings of the cabbage butterfly wing. Our guest was getting ready to change into her glorious gown.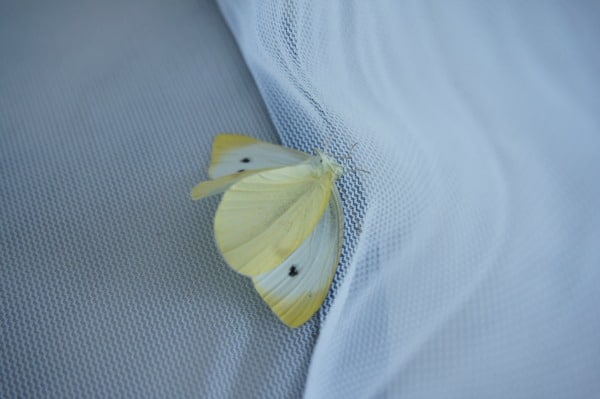 And so she did. We came home from a busy day out and discovered our guest had finally woken up and was ready to show us how beautiful she really was.
Parting is such sweet sorrow. The time had come for our unexpected summer guest to leave us. We could see that her wings were dry.  As she flitted around the butterfly suite, we could see it was time to let her go. We thanked her for sharing her most special journey with us. Before she left, I asked her to please not deposit any of her cabbage butterfly eggs on my cauliflower plant…they EAT THE ENTIRE PLANT. We opened the door to her suite and off she flew. What a most lovely surprise visit.