As my girls have grown up I have tried to find ways to help them understand the importance of kindness and sharing kindness.
You might remember in the past we mailed the girls' great grandmother a winter care package. It was such a lovely gift and it was very much appreciated. A simple act of kindness that brought a lot of joy to their grandmother.
This year, we were looking forward to finding a way to share kindness with strangers. Lately, my youngest daughter and I have been enjoying a little quality one-on-one time while we watch my eldest daughter's swimming class. During this time we brainstormed all sorts of crazy ideas. This past week we discussed how we could show and spread kindness with strangers. After lots of chatting, we planned out our kindness activity. We took inspiration from the paper posters we saw hanging outside of our local library – the "looking for a dog walker" type posters. We totally reimagined the poster and gave it a kindness spin.
Share Kindness with a Smile and Hug Poster 
We began our project with my daughter sitting at the computer and typing out the text for our
smiles and hugs poster
. I let my daughter do all the work, pick the font, type the text and print the page. You can print off your own 
smiles and hugs poster
 to hang in your own community.
Could you use a smile?
Do you need a hug?
Go ahead take one.
Have a great day.
Next, my daughter drew little smiley faces and "hugs" along the bottom of the sign. This sign is just like the sort of sign you see advertising things around your neighbourhood. The idea is to rip off the smile or hug, if you need one.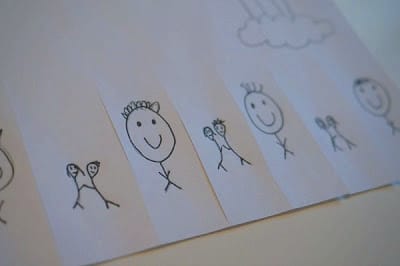 Finally, we brought our stapler, tape and our sign and went down to a local bulletin board to hang up our sign. This bulletin board is located right outside our library branch. My daughter thought it would be a good idea to rip one smile off…to encourage other people to take one too.
This was such a fun and simple way to spread kindness. I have seen this done before and I couldn't wait to try it out. I was so happy to see how enthusiastic my daughter was. I think tomorrow we will swing by and see if anyone was in need of a smile or a hug. As my daughter observed, some people who were walking by looked like they could use a smile…kids! We have photocopied a few more signs that we plan to hang in a couple of transit shelters, near our house.
Would you take a smile or a hug if you saw this sign today? Maybe simply seeing the sign would bring a smile to your face.
---
Please, be sure to head over to Toddler Approved to discover some more fabulous ways to spread kindness with your family, as part of the 
100 Acts of Kindness Challenge
 .
---
Related Posts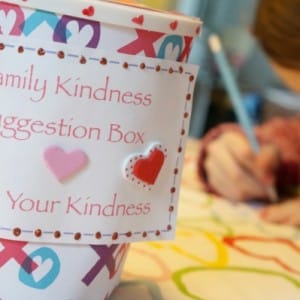 Share the love in your family with a family kindness suggestion box
---
LOOKING FOR MORE WAYS TO CONNECT WITH YOUR KIDS?
---