I love reading all the Valentine cards that my daughters bring home from school. My girls are always so eager to see who wrote "love" and who didn't…giggling away. Over the years my girls have made some cute Valentine cards…you might remember our potato stamp, bookmark card from a couple of years ago. I try and get my daughters to help me brainstorm what we make. Last year, we had been talking about bees…specifically the decline of Canada's bee population. Bees were on our minds. So, it was no surprise that our kid made valentine card choice was to make sweet little bees…won't you bee mine?
Kid Made Valentine Card – Bee Mine
card stock
parchment paper or velum paper
markers, pencil crayons, crayons
white craft glue
scissors
First, we traced a small egg shape (the bee body) on the card stock. We traced as many bee bodies as we needed for our child's class. Then, the kids cut out all the bee bodies…okay, I cut most of the bodies out…but they did a lot of them.
Then, it was time to decorate the bee bodies. My girls used markers to make colourful stripes and cute little smiley faces on one side and a simple "Bee Mine" message on the reverse side.
Finally, we made the wings by cutting a heart out of the parchment paper. Once the hearts were all cut out, we folded them in half…this way the wings will look like 2 wings that flutter off the bee body. We glued the wings to the bee bodies and waited for them to dry.
These cute little bees made me smile.
---
If you loved this Valentine craft, then you might love our other Valentine's Day crafts…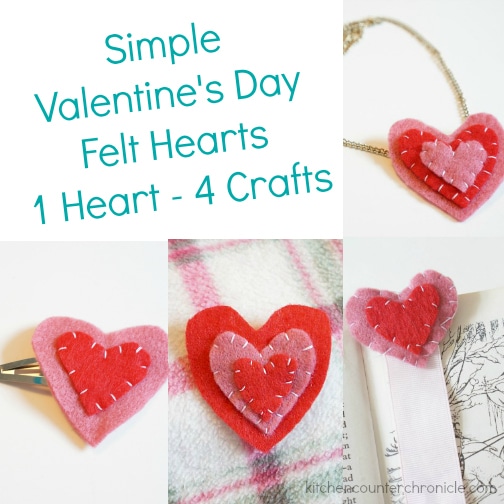 Turn a simple Valentine felt heart into 4 different crafts
Countdown to Valentine's Day with this treat filled countdown calendar
---
Looking for more ways to connect with your kids this holiday season?
Come join Kitchen Counter Chronicles on Facebook and Pinterest.
Be sure to subscribe to receive our ideas delivered to your inbox.
---