Last week I shared an idea packed post, with over 25 ways to use recyclables as craft supplies. After compiling all of those posts we were super inspired to get crafty. This week, the weather took a turn for the cool and rainy around here, the perfect time to pull out some craft supplies. We gathered up some plastic lids, the drill, beads, markers and some string…the end result was super cute kid made plastic bottle cap necklaces.
Plastic Bottle Cap Necklace
plastic bottle caps
paper
scissors
markers
white glue
paint brush
drill with small drill bit
waxed linen string, or any string
assorted beads
After selecting her favourite plastic bottle caps, my daughter started by tracing the cap on a piece of paper. Once traced, she then cut out the circle.
Next, get creative drawing a fun picture to go inside the bottle cap. My daughter decided that she wanted to put a picture on the backside of the bottle cap as well.
Once the picture was done, it was time to use the white glue to adhere the paper to the plastic lid.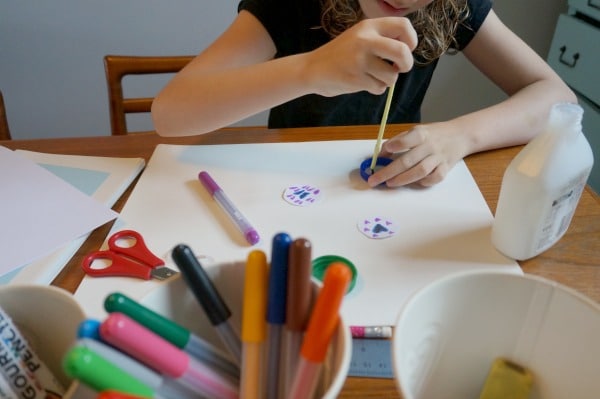 After the glue had a chance to dry, a little, it was time to drill holes for the string. We drilled 2 small holes near the top of the lid. My daughter even tried her hand at drilling. * To make drilling a little easier and safer take these steps. Place the lid on a thick wooden cutting board and drill down into the edge of the lid. Know your child…give your child a chance to try operating the drill…lend a helping hand.
Feed the string into the holes and add beads to the string. When the beading is done, it's time to try on the necklace and tie a knot in the string and you are done.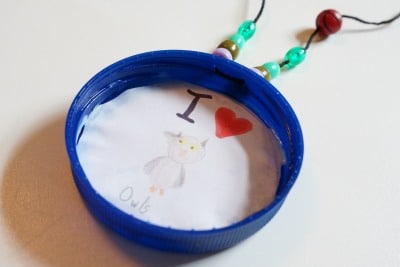 This was a perfect rainy day activity for my daughter. I love her design ideas. She's a little obsessed with owls, so it was no surprise that she made an "I love owls" necklace. I especially love her mood necklace…one side has a full heart and the flip side has a broken heart. She will flip it, depending on her mood. Thankfully the full heart is out right now. Phew!