The other day we took a walk through our local ravine, where the leaves were changing and falling to the ground. Such a beautiful oasis in the city.
We also had a stupendous trip to the pumpkin patch. Where the kids ran around hunting for the perfect little pumpkin. Both of these outings inspired our latest crafty project. We decided to try creating our very own pumpkin and leaf charm necklaces. Here is how we did it.
You will need
thin tip permanent marker
pencil
pencil crayons
baking sheet
parchment paper
hole punch
jump rings
pliers
chain
1. Scuff the shrink film, so that the pencil crayon's colour will stick to the paper. This depends on the paper you have purchase. Check the instructions for your particular paper.
2. Draw whatever shape you like on the rough side of the paper.
4. Cut out the shape, be sure to leave enough room to punch a hole in the top of the shape.
5. Again, follow the instructions for your particular shrink film. Place the shapes on a parchment lined baking sheet. Place in a 325F oven for about 2 minutes.
6. The shapes will curl and shrink. If they start to curl onto themselves, use a spatula to straighten the shape out.
7. Once the shapes are done shrinking remove from the oven and let cool.
My daughter was very excited about her necklace.
To be honest I had a lot of fun making my necklace too! The finished products are fabulous. It is so amazing to see how a simple walk in a ravine can inspire such a creative keepsake!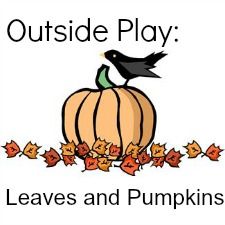 Now, it's time for the Blog Hop and link up. Please be sure to check out how all of these other amazing blogs have been playing outside with apples…I can't wait to see what everyone has been doing.