We have shared many different homemade bird feeder ideas over the years. A bird feeder is a simple way to invite wildlife into your backyard. Whether you want to feed the birds in the cold of the winter or in the heat of the summer – our birdseed wreath is a simple option to make.
Disclosure: There are Amazon Affiliate links in this article which means, at no additional cost to you, we could receive compensation for our recommendations. You can read our full disclosure policy on our Disclosure Page for more details.
We live in the city. Even in our busy urban neighbourhood there are many birds and little critters that stick around during the winter months. So, when the snow is on the ground it is a great time to find ways to feed the birds.
We have made cookie cutter birdseed ornaments in the past, but I've always wanted to try making one of those BIG birdseed wreaths that I see in the stores. I was afraid it would be difficult to make…but you know what…it is easy. I even share an extra tip to make it pretty much foolproof. My biggest fear was, how the heck was I going to get the wreath out of the bundt pan? I've got a trick for that!
How to Make a Bird Seed Wreath
4 cups of wild bird seed
3/4 cup of all purpose flour
1 gelatin pack
3 tbsp light corn syrup
oil spray or 1 tbsp olive oil or sunflower oil
1/2 cup warm water
bundt pan
parchment paper
Begin by making certain that you have bird seed that is appropriate for the birds where you live. Be sure to make sure you purchase wild bird seed, not bird seed for tropical/pet birds. For the bird seed wreath, it works best when using a bird seed that has a good mix of small and large seeds. You want to try and attract a variety of birds to the feeder. Once you have your bird seed, you are ready to go.
The first step is coating your bundt pan with oil. I didn't have any cooking spray, so I dipped a cloth into some olive oil and rubbed it into the bundt pan. Be sure to get into every little nook and crannie…it will pay off when you try and remove the wreath.
Now, here's a little extra insurance that the wreath will pop out easily. Place a strip of parchment paper in the bundt pan. Make sure the parchment paper is long enough to hand over the side of the pan. Wait and see how it helps you later!
Whisk together the gelatin and the warm water in the bottom of a large mixing bowl. Whisk until the gelatin is dissolved. Once the gelatin has been dissolved, it is time to add in the corn syrup. Whisk until you have a gooey-glooey paste. This is the glue that will bind together your bird seed.
In a separate bowl, stir together the flour and the bird seed. Pour the bird seed and flour mixture into the glue.
Use a large spoon to mix the glue through the bird seed. Be sure to thoroughly coat all the bird seed. A better mix will hold your wreath together better.Once the birdseed is thoroughly mixed it is time to pour it into the bundt pan.
Use a spoon to scoop it into the pan and press it into the pan as you go. Press the birdseed on top of the parchment paper strip.
When the birdseed is pressed into the bundt pan, set the wreath aside to dry. Place it in a cool spot for 12-24 hours. Overnight worked for us.
To remove the birdseed wreath, gently pull on the parchment paper strip. This will pop the wreath loose. When you pop the wreath out of the pan, it may not be totally dry. That's okay. Place it on a cooling rack and let it sit and dry completely.
Now that the wreath is dry and hard, wrap a piece of ribbon around the wreath. The ribbon needs to be long enough to hang it up.
When it comes to hanging up the wreath you will need a branch that is quite strong. The wreath is heavy. I found a spot to tuck the wreath into on our tree, so the wreath is surrounded by branches for the birds to sit on and eat.
The wintertime is a great time to make a birdseed wreath. Birds are looking for food and it can be scarce. Realistically, our wreath won't just be for the birds. I'm sure that plenty of squirrels will enjoy chomping on the seeds. That's fine by me.
This picture is what I hope to see…cardinals, well any kind of bird, eating our bird seed wreath! You could easily use this recipe to make any size bird feeder. Like our hanging heart birdseed ornaments. Where will you hang your bird feeder?
---
Related Posts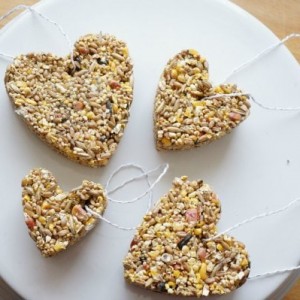 Make a super simple birdseed ornament to hang and feed the birds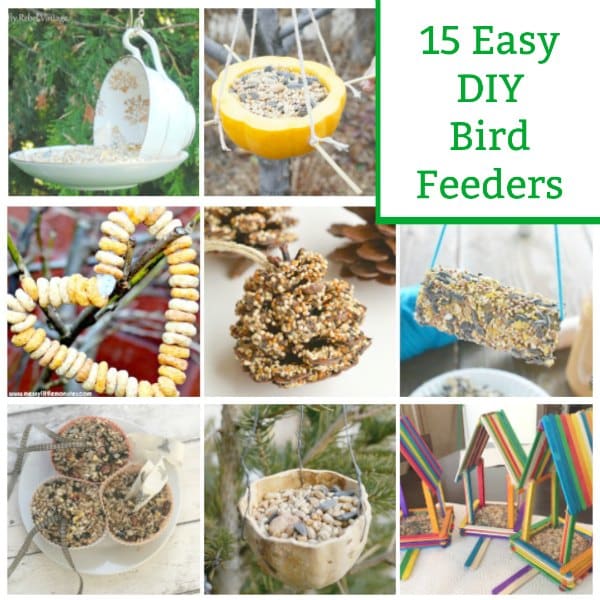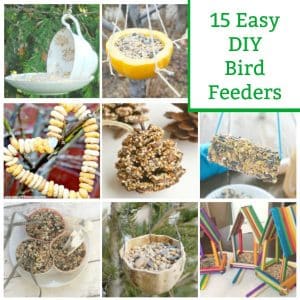 Check out this amazing collection of homemade bird feeders
---
Make sure you are following along…
SUBSCRIBE TO KITCHEN COUNTER CHRONICLES TO HAVE OUR DELICIOUS RECIPES, FUN CRAFTS & ACTIVITIES DELIVERED DIRECTLY TO YOUR INBOX.
FOLLOW KITCHEN COUNTER CHRONICLES ON