This week is National Wildlife Week, an event created by the Canadian Wildlife Federation. There are various events taking place in parks and wildlife centres across the country. The goal of National Wildlife Week is to invite people to get involved in their communities, to raise awareness and to spark interest in learning more about Canadian wildlife. So, I thought I would share a week of wildlife activities that will help anyone celebrate wildlife week – any week of the year.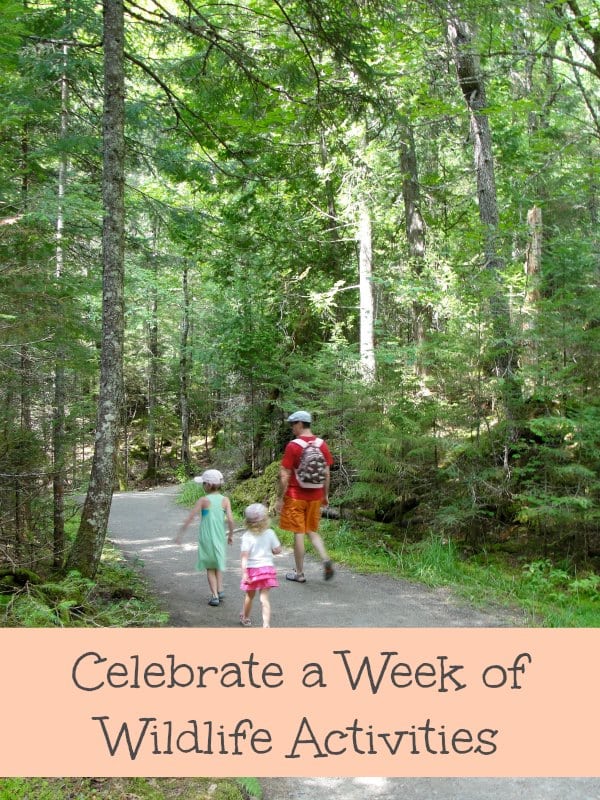 Start at the Library – Okay, it might seem strange to start off indoors…after all we want to connect with wildlife that live outdoors. However, a quick trip to the library is a great place to start any exploration of wildlife. Get the kids to do a little research before heading outside. What animals are local to where you live? What animals would you like to learn more about? Where will you find the most interesting wildlife to investigate? There is a lot of inspiring information in the pages of a book.
Make A Wildlife Journal – Speaking of the pages of a book – make a wildlife journal. Provide your child with an empty journal and a pencil. Make sure the journal is small enough that your kid can easily carry it around, but large enough to draw in. This journal can be used to document what they learn, write questions they want answered and draw pictures of wildlife they discover.
Get Outside – You've done your research, you've got a journal – it's time to get outside and explore. Find a conservation area, locate a hiking trail, head to your local park…find a new green space to explore. National parks and conservation areas often are home to knowledgeable guides who can provide tours, information and general guidance on your visit. Check the website for the conservation area and park to see if there are any special events or programs that might be of interest to your kids. These programs are usually inexpensive, or free and are a wonderful way to learn about local wildlife.
Go Birding – Investigating birds is a simple activity for kids of all ages. While at the library pick up a bird identification book and head outside. Your own backyard is a great place to start. Here are a few more tips for taking the kids on a bird watching adventure.
Geocaching – Have you ever followed a secret map to uncover a hidden treasure? That's exactly what geo-caching is. Grab your smart phone (you can use the Geocaching app for iphone and android) and search for the coordinates where treasures are hidden. Looking for something low-tech? Try letterboxing. Plug in your postal code and follow the clues to find hidden stamps where you live…we gave letterboxing a try and it was a lot of fun. Be sure to take some time to check out the wildlife while you explore the wilderness.
These are just a few ideas. How do you connect your kids with wildlife? Have you ever visited a national park or conservation area? What did your kids enjoy the most?
Last week's Outdoor Play Party was filled with kids getting outside and enjoying spring! Could it be that spring has finally arrived? I know that we are experiencing lots of spring showers…that will hopefully bring beautiful spring flowers. I really enjoyed the simplicity of Mommy Loves Trees favourite spring outdoor play activities.
Now it's time for this week's Outdoor Play Party. We would appreciate it if you included a link back to this post (either in your post or sidebar) to help us spread the word about the importance (and fun!) of outdoor play! In return, we'll gladly further share your post on Pinterest. Please feel free to grab the Outdoor Play Party button from my sidebar and/or include a text link back. Please note, that by contributing you are giving permission for an image and link to your post to be republished if featured. Share your ideas for outdoor play activities with us every other week.