Food is the focus of many books. This weekend we decided to explore
Eric Carle's
classic book, 
Pancakes, Pancakes!
So, it was easy to decide what to have for breakfast on Sunday…pancakes. Unfortunately, by the time I got to the kitchen, camera in hand, the pancakes batter was done, the pancake flipping was done and the pancake eating was almost done. Thus, no pics of the batter…only one lonely pancake on my plate. The silver lining, my husband made the pancakes and then the kids took part in a fun literacy and pancake activity.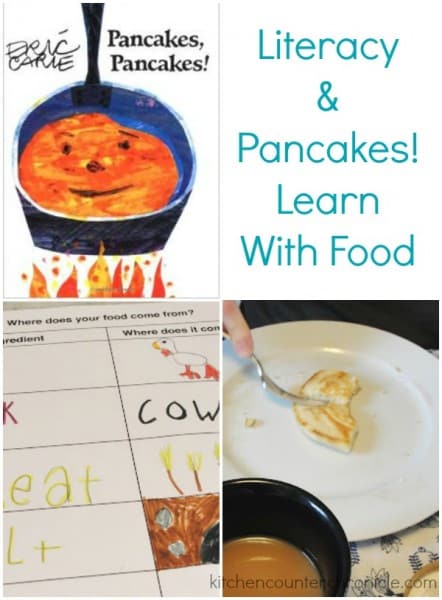 for your convenience, this post contains affiliate links
Literacy and Pancakes Activity for Kids
Discovering where food comes from is amazing to children. Whether it is going to the orchard to pick apples or heading to the farm to pick a pumpkin. Why not explore where the ingredients come from in pancakes, just like
Eric Carle does in Pancakes, Pancakes!
 I created a simple
Where Does Your Food Come From
 chart…feel free to print off a copy to use at home.
Print off the
Where Does Your Food Come From
table.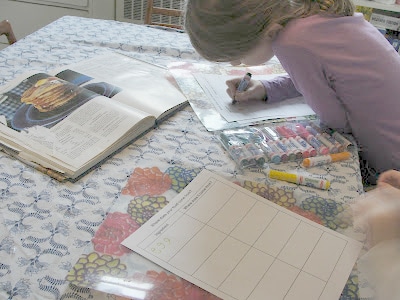 Pick a recipe…we chose our basic pancake recipe.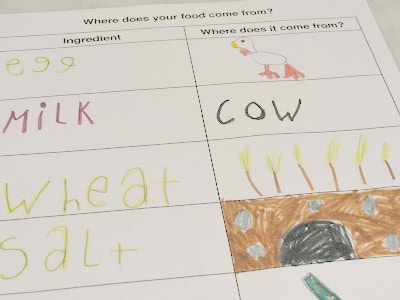 Have the kids draw or write the ingredients and where the ingredient comes from. Some ingredients like eggs are easier than others. They had to do some serious research to discover where baking powder comes from. 
The best part of this activity was that my daughters did this with my husband. Not only did Dad make the pancakes, but he participated in the activity too, quality father-daugher time! This exercise can be applied to any recipe and is a simple way to incorporate reading and food education. When we were done, we sat down and read Pancakes, Pancakes! together. A fun, and delicious, spend a Sunday morning.
Basic Pancakes
(adapted from The Canadian Living Cookbook)
1-1/2 cups all-purpose flour
1 tbsp baking powder
1 pinch of salt
1 tsp sugar
2 large eggs, beaten
2 tbsp butter, melted and cooled
1-1/3 cups milk
maple syrup
Whisk together flour, baking powder, salt and sugar in a large bowl.
Beat egg, milk and melted butter together in a small bowl. Pour wet ingredients into dry ingredients. Stir until batter forms. Batter shouldn't be too thick.
Heat large skillet over medium heat. Drop 1 tbsp of butter into hot pan. Use ladle to drop batter into pan. The rest is up to you. How big you make the pancakes will determine how long they take to cook. Flip the pancakes over once you see slowly popping bubbles in the middle of the pancake. Once cooked through top with real maple syrup and enjoy.
---
Be

sure to subscribe to Kitchen Counter Chronicles to have our delicious recipes, fun crafts & activities delivered directly to your inbox.
---