Sometimes I get an idea and then I cannot wait to try it out and then I really cannot wait to share it with all of you. Today is one of those days. I was thinking "What kind of Easter cookie will I make this year?" Last year we made the super cute, kid decorated cookies and I wasn't sure what to do this year. Then I had this idea to make a candy filled Easter egg cookie. How could I fill an Easter egg cookie with candy? I did a little brainstorming and came up with a plan.
Candy Filled Easter Egg Cookies
Easter egg cookie cutter
small circular cookie cutter
2 batches of Martha Stewart's Basic Sugar Cookie dough (my favourite sugar cookie dough)
royal icing
decorative edible jimmies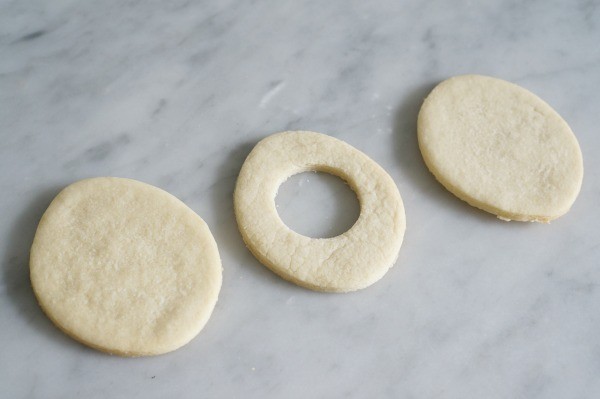 Each candy filled Easter egg cookie will require 3 egg shaped cookies. Start off by mixing up 2 batches of Martha Stewart's basic sugar cookies. To make 12 finished cookies, start by cutting out and baking 24 egg cookies. Set them aside to cool.
Next bake 12 more egg cookies. When these 12 cookies are removed from the oven, use a small circle cookie cutter to remove a circle of cookie dough from the middle of the egg.
Once all the cookies have cooled, it is time to assemble the cookies…so much fun! Use an off-set spatula to decorate 12 of the egg cookies. I like to simply cover the cookie with royal icing and dip the cookie in the decorative edible beads. These will be the cookies that are on top.
Set the decorated cookies aside to dry. In the meantime, use an off-set spatula to coat the under side of the hollowed out cookies and adhere them to an undecorated egg cookie…creating the cookie base. Set aside to dry.When the cookie base has dried fill the hole with decorative jimmies. I thought about filling the cookies with jelly beans, but realized I would need another layer of cookie and the cookies might end up being a little too huge.
To seal the cookie, use an off-set spatula to coat the top of the hollowed out cookie with royal icing and then press the decorated egg on top. Set aside to dry.
How pretty are these cookies? They turned out really well…and so colourful!
When my girls came home from school it was time to crack a cookie open. It was so much fun to crack it open and have all the little candies come pouring out.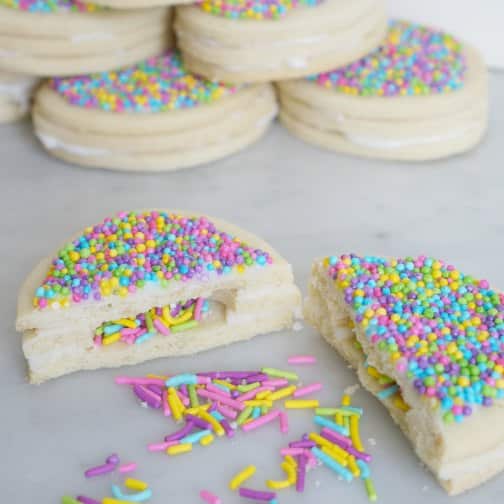 We wrapped up our cookies and we will give them to everyone who is joining us for Easter dinner on Sunday. What would you fill your Easter egg cookie with?
Be sure to subscribe to Kitchen Counter Chronicles to have our delicious recipes, fun crafts & activities delivered directly to your inbox.
Looking for more Easter recipes and craft ideas, check out our Easter Pinterest board.
Follow Jen at KitchenCounterChronicle's board Easter – Crafts, Recipes & Activities on Pinterest.